Before The Concert
Back in early 1990 Floyd fan Tom Macneir was listening to his local rock station WMMR in Philadelphia USA, when he heard an announcement that WMMR were running a contest, with the winner receiving a 5 day trip to Berlin, Germany to see the Wall concert and a tour of the city. The contest required you to send in postcards, so that's what Tom & his wife did. In fact they sent in hundreds of them! Tom estimates they sent in an average of 20 postcards a day for two months.
Then, finally, came the day of the drawing. Tom waited as the DJ drew the winning name.
Here's how Tom recalls that moment.
"When I heard my name called, at first I didn't believe it. Then he repeated it, and the town I was from as well. I was at work at the time, and scared my co-workers with my yell of joy! My wife called me from her work, and we spent the next ten minutes yelling back and forth with happiness! Then I called the radio station, and once they confirmed that I was who I said I was, they started filling me in on all the details. By this time the concert was only a month away, and we needed to get our passports asap so we could travel. We also needed to arrange the time off at work, which wasn't as easy. My boss gave me problems about letting me off with such "short" notice, but I told him I was going regardless, and if he fired me, so be it. I'd find another job, but this concert would never happen again! He finally relented and "let" me go.
A few days later we went to WMMR to pick up our plane tickets and all the other things we needed for the trip. The full package included airfare to and from, seven days, six nights in Berlin Germany at the Hotel Schweizerhof in the heart of the city and just a few blocks from the concert site. Backstage passes and VIP seats to the show were also included, as well as a tour of both east and west Berlin."
You are about to travel with Tom on his trip, as he gives us an idea through the lens of a camera, as to what the concert was like. This is an extraordinary and gigantic exhibition, never seen on the internet before and has been generously supplied exclusively to A Fleeting Glimpse.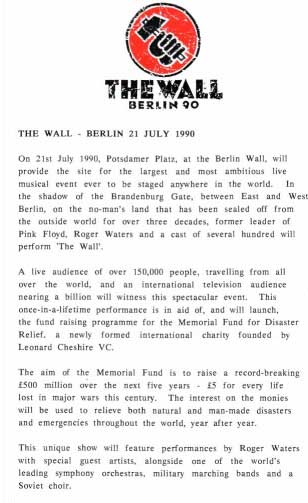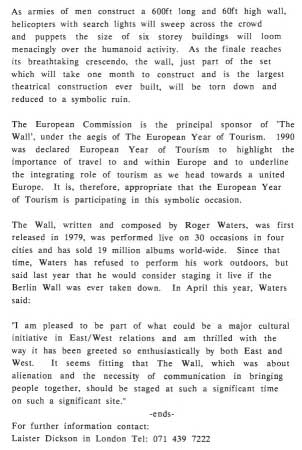 Final Preparations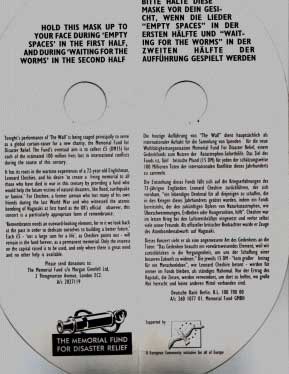 Behind the stage… This may give you an idea of how much work went into building the stage. It was said that it took over a MONTH to build the set on site and two weeks to take it down!
The Celebrities
The Concert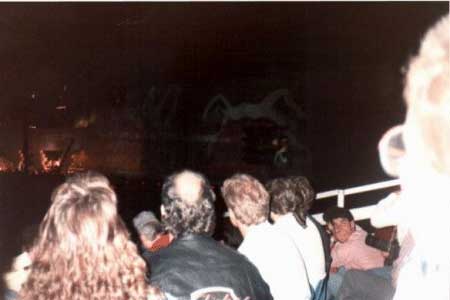 (Above & Below) Various projections on the Wall set…as the wall grew it became the worlds largest slide projection screen.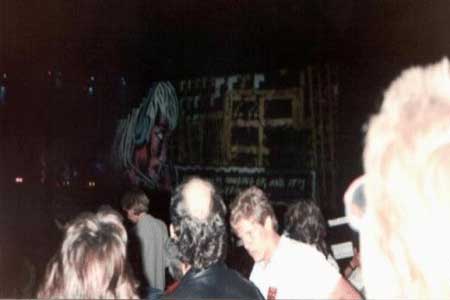 (Above & Below) Taken during "Bring The Boys Back Home" and featured the East German Marching band across the stage.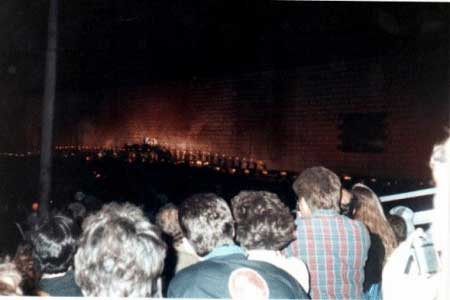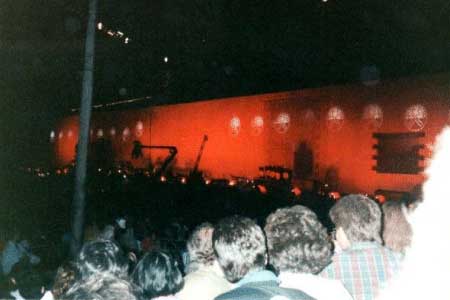 (Above & Below) During "In The Flesh!" and "Run Like Hell" featuring the soldiers again marching across the stage carrying the Hammer banners.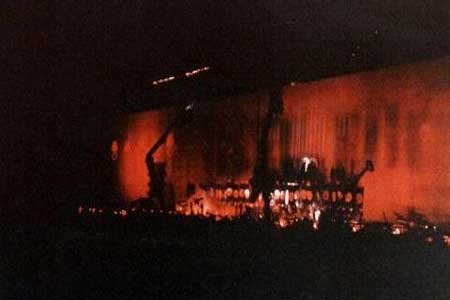 The Wall Starts To Come Down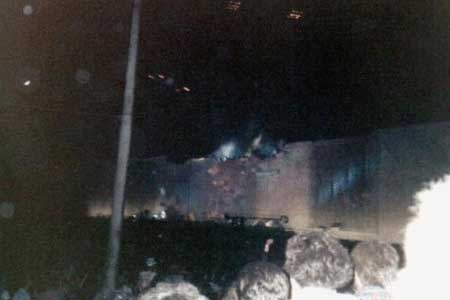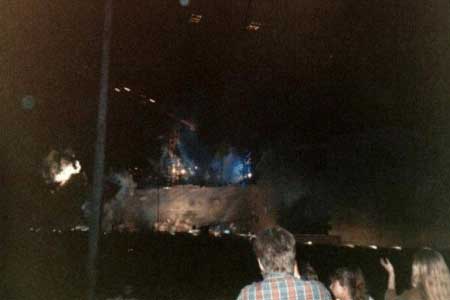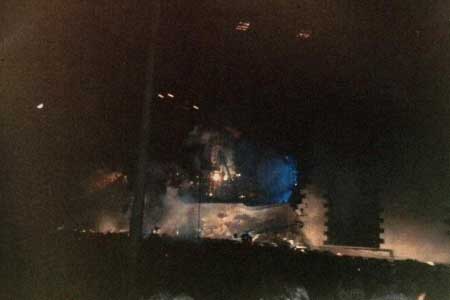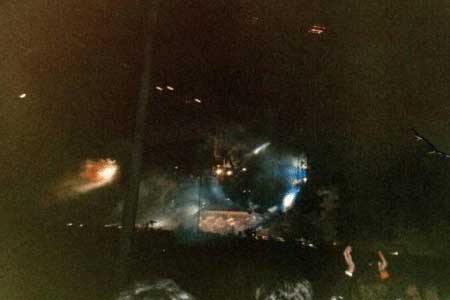 The Tide Is Turning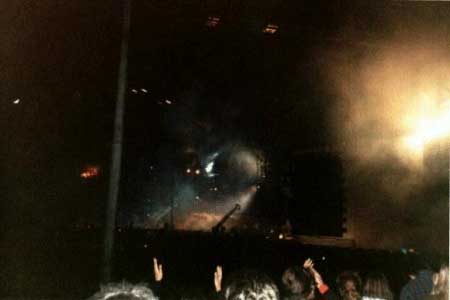 After The Show
Soaking up the atmosphere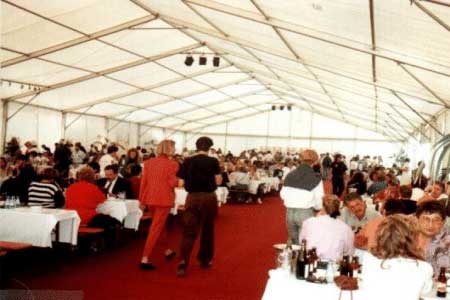 (Above & Below) The backstage food tent. When Tom & Carin were told that they had backstage privileges and that food would be provided, they had NO idea how extensive it would be! Tom said this tent was HUGE, with every kind of food you could think of. Open bar as well, with beer and champagne flowing freely! And Tom was expecting maybe some hotdogs and soda or something! Boy was he wrong.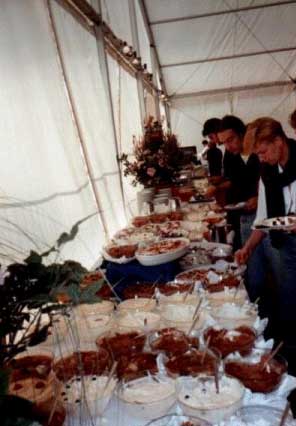 Backstage
Wall Art
 While touring east Berlin, the tour bus took Tom & Carin past a long section of the east side wall that was still standing. While the western side had been covered in graffitti, the eastern side was completely clean due to the fact that people weren't even allowed to approach the wall, let alone paint on it. Once the wall came down, artists from all over East Berlin flocked to paint this cement canvas. These are just of the few pieces of art painted on the wall.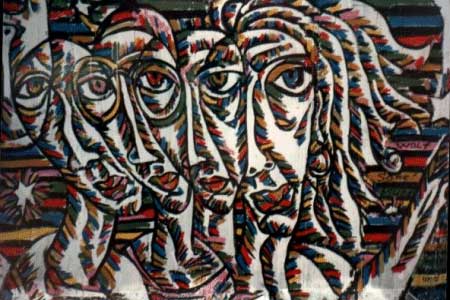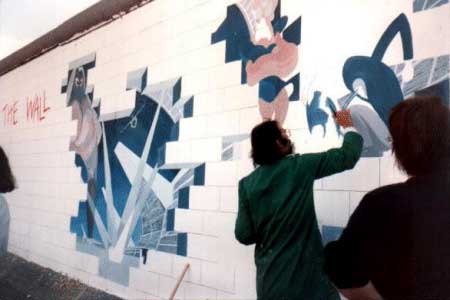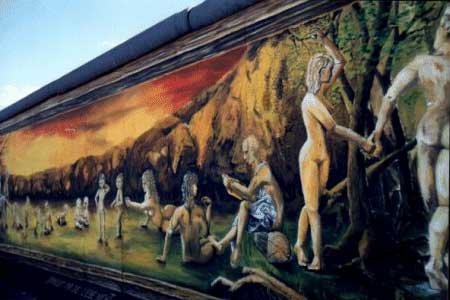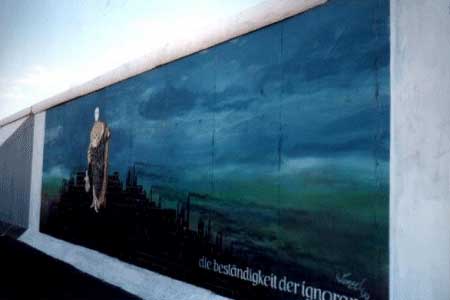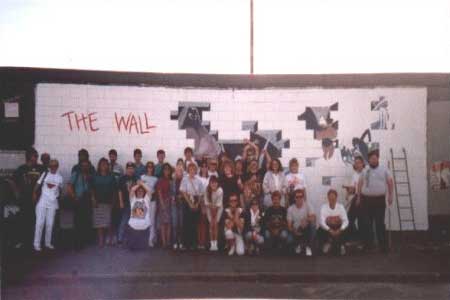 Spare Bricks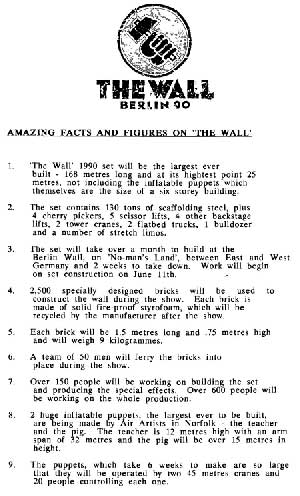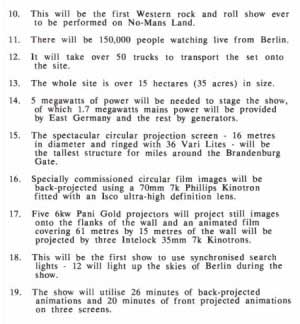 Well we do hope you have enjoyed this exhibition. If you would like to write to Tom (Tell him what a lucky bugger he was!) you can email him here djmac1031@yahoo.com Of course if you were on that tour and met Tom, he's dying to hear from you.