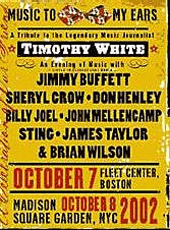 I was persuaded at the last minute that I really wanted to fly to the US and see the two Music To My Ears benefit shows! How could I refuse 😉
The first show was in Boston on Mon 7th October 2002 at the Fleet Center. It featured a selection of artists including Roger. The best tickets available were US$250!!!
To start the show James Taylor came on stage and did a small speech about Tim White, the Billboard editor, for whom the show was a tribute. Then there was a film projected onto the two huge screens either side of the stage about Tim and his life. The set up for each artist was that a pre-recorded small piece was projected onto the screen who then took to the stage to do their set – first up was Roger. He played Comfortably Numb, Wish You Were Here and Flickering Flame, and came on for the encore of This Train and Everyday People.
Roger was joined by Don Henley for the vocals on Comfortably Numb and by Norbert Stachal on penny whistle for Flickering Flame.
Don Henley fluffed a few on the words on Comfortably Numb and was helped out by Roger and FF was one of the longest I've heard. It was great – really missed PP on vocals though.
Roger then left the stage but reappeared for the encore along with all the other artists and sang a verse of This Train. He seemed very uncomfortable and as soon as he finished his verse retreated to the back of the stage and stood next to Sting but behind James Taylor. He really seems to be unable to cope with singing songs that aren't his and is very ungainly when dancing along.
Thank to John E
Wish You Were Here
---
Set List
Roger Waters
Comfortably Numb / Wish You Were Here / Flickering Flame
Sheryl Crow
Happy / Sun / Home / Steve McQueen
James Taylor
Hound Dog / October Road / Stop Thinking 'Bout That / Mexico / ? Lullaby – Close Your Eyes? (With Sting) Second Set
Billy Joel
My Life / New York State of Mind / Only The Good Die Young / You May Be Right / Piano Man
Don Henley
How Can I Stop from Singing (With Tim Schmit and James Taylor) / Shine / Boys Of Summer / Get Up – Stand Up (With Sting)
Sting
Roxanne / Fields of Gold /Faith / Every Breathe You Take / Fragile
John Mellancamp
Paper in Fire / Peaceful World (With Heather Hadley) / Small Town / Robert Johnson Blues / Pink Houses with Patty Smyth
All
This Train / Everyday People
---
Boston Globe 8 Oct 2002 Thanks to John E