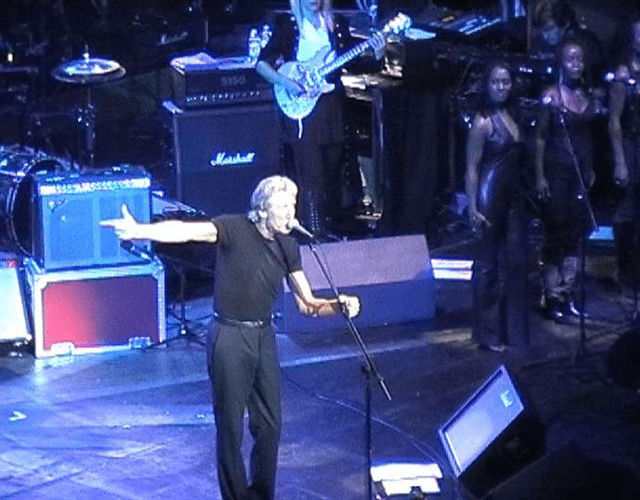 What God Wants Part 1
What God Wants Part 3
Thur 12 Sept 2002
Roger arrived at the Festival Hall about 2 to do the soundcheck then left again about 5. When he came out at 5, Andrew Zweck asked the 25 odd people outside to line up and that Roger would sign everything! Everybody did and he did indeed sign everything for everybody and posed for any photos that people asked for. In fact he stopped signing when people asked for photo's – did the pose then carried on signing. He was accompanied outside by Mark Fenwick as well as Andrew Zweck.
The gig started at 7.45 with Beck doing his own and Yardbirds tunes in the first half. There was a 20 minute break. Roger came on at 9.25 and did What God Wants parts 1 and 3. For Part 3 he brought an A4 piece of paper out of his pocket which had the lyrics on – he then sang the song constantly referring to the lyric sheet.
Beck's playing was superb and was very close to the album version. Listening to it on the album I always imagined that it was really complicated but seeing him do it live it seemed so simple. He hardly seemed to be making an effort as he wandered around the stage. Rogers voice was far better than on the ITF 02 tour as he hit the higher notes far better. A great performance accompanied by the house band, Beck, Fairweather Low and the 3 backing vocalists – Katie Kissoon, PP Arnold and Carol Kenyon. Although everyone else came out during the encore for Hi Ho Silver Lining – with Fairweather Low doing backing vocals – Roger didn't!
Fri 13 Sept 02
Roger didn't arrive at the venue until about 9 at night – shortly before he was due to go on and did the same as the previous night. This time however the lyric sheet was taped to the floor and he only referred to it a couple of times. The performance was better than last night, in fact the whole show was better. Maybe the addition of the White Stripes improved to the performance – Beck seemed to really enjoy playing with them. Again for the encore, Roger didn't appear.
As an aside, the whole (except Norbert) of Rogers 2002 band were there – Fairweather Low, Katie Kissoon, PP Arnold, Carol Kenyon on stage whilst in the audience Graham Broad, Snowy White, Harry Waters (sat next to India Waters who had on a very bad outfit – view of all the women that saw her!), Andy Wallace and Chester Kamen.
Graham went backstage straight after Roger had finished his bit, but all the others stayed in the audience and watched the whole show before going backstage afterwards. Roger left the Festival Hall at about 12 and again stayed for a long time signing things before being finally dragged away by his new lady, whilst Fairweather Low and Katie Kissoon went for a pizza nearby.
With Thanks to John E