The Photos you are about to see were taken by 'Karen' and donated by Bob Cooney CooneyD@aol.com to whom we are sincerely grateful. 'Karen' was one of the lucky people at the concerts on the 3rd & 4th of July 1977. Madison Square Garden.
On the 1st to the 4th of July 1977, Pink Floyd played to packed houses at Madison Square Garden NY, NY. The Floyd were nearing the end of the long and gruelling 'Animals' tour and Roger looked to be, shall we say 'stressed'. (It was on the 6th of July that the infamous 'spitting' incident occured, in Montreal.)
On the 3rd July, fireworks went off during Pigs On The Wing, Part 1 and Roger substituted one line for "You c*nt!" Then, during Pigs On The Wing, Part 2, Roger started singing the words to Part 1 and stoped after one line, and still strumming the guitar, said, "I've got to start again, I'm singing the wrong verse, that mother-f*cker threw me off."
The setlist for the tour was Sheep, Pigs On The Wing, Part 1, Dogs, Pigs On The Wing, Part 2, Pigs (Three Different Ones) *Intermission* Shine On You Crazy Diamond (Parts I-V), Welcome To The Machine, Have A Cigar, Wish You Were Here, Shine On You Crazy Diamond (Parts VI-IX), Encore: Money, Encore: Us And Them.
At the end of the first set Roger told the crowd that they'll be taking a short break and to "stop lighting off f*cking fireworks!" Before the encores, Roger said, "For those of you who didn't bring fireworks, thank you for coming, we've enjoyed it."
Again on the night of the 4th, during Pigs On The Wing, Part 2, fireworks went off again and Roger substitutes a line for, "You shit-bag!"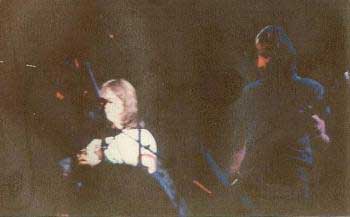 (Above)You can probably notice that the colour of the shirt Roger is wearing is slightly different to the other photos. It's actually a different shirt and has the legend 'Give Birth To A Smile' embroidered on it. The shirt was thrown onto the stage by 'Karen' who also took these fantastic photographs. Karen threw the shirt on stage during the first half of the show. You can imagine her delight, when Roger walked out wearing it after the interval!