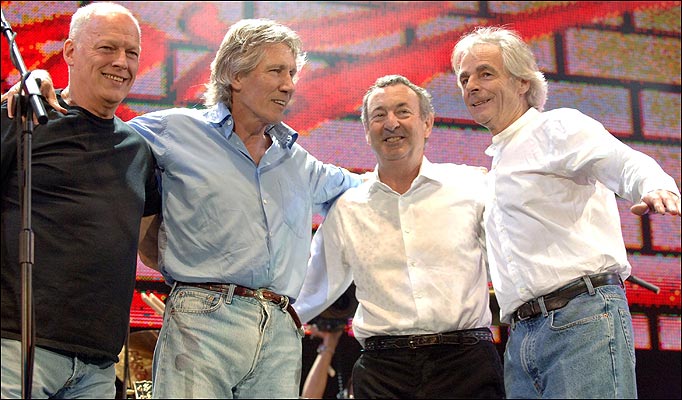 Live 8 was a string of benefit concerts that took place on 2 July 2005, in the G8 states and in South Africa. They were timed to precede the G8 conference and summit held at the Gleneagles Hotel in Auchterarder, Scotland from 6-8 July 2005; they also coincided with the 20th anniversary of Live Aid.
More than 1,000 musicians performed at the concerts, which were broadcast on 182 television networks and 2,000 radio networks.
Included in the line-up were Pink Floyd, reunited with Roger Waters for the first time in over 24 years. The complete foursome had not performed together since a show at Earls Court in London on 17 June 1981. With the death of keyboardist Richard Wright in 2008, Live 8 became the final time the four members of the band's classic line-up of the late 1960s and 1970s performed together.
The setlist was "Speak to Me" / "Breathe" / "Breathe (Reprise)", "Money", "Wish You Were Here", and "Comfortably Numb".
Also on stage were:
Jon Carin – keyboards, vocals, slide guitar (on "Breathe")
Dick Parry  – saxophone (on "Money")
Tim Renwick – guitars, bass (on "Wish You Were Here")
Carol Kenyon – backing vocals (on "Comfortably Numb")
There are many thousands of pictures and reports on the internet of this event, but we do hope you enjoy the small selection we present for your enjoyment that were sent in by Steve Fletcher.