MAROONED: This was amazing. He used the #001 Strat for this. All three of the songs played were the full, all-electric versions, and this was no exception. The entire track was performed, with Dave showing that he is still the master of the Digitech whammy pedal . I'm a guitarist so I noticed that #001 was giving him a bit of a problem around frets 18-20, on the high e and B strings: his full tone bends weren't quite reaching the correct pitch, but then again its not surprising that a 50 year old guitar would have a few deadspots here and there. David is such a genius that you have to be a neurotic guitarist like me to spot it anyway…he just carried on playing flawlessly, as usual. We heard the full 5/6 minute version of the song. Incredible.
COMING BACK TO LIFE: Again, he used #001. When I heard that synth and he started playing the intro, it really got to me. At that point it hit me that David Gilmour is standing about 10 feet away from me (I was front row!), playing the full electric version of this song, for the first time in 10 years. His voice was perfect. Still that unmistakable high pitched soft tone. He played the solo at the end in a style very similar to that of the PULSE CD.
SORROW: He switched to the Candy Apple '57 Reissue with the active EMG's for this. That intro was so powerful I could feel it in the floor and my shoes. We got the whole 10 minute version of the song, and the solo at the end was the best version I've heard. He didn't do the feedback-solo he did at the Division Bell concerts at the end of it though, the song just built up to a huge ending.
Summary:
David has obviously lost a lot of weight since the Meltdown gig, and he's looking very good.
His singing and playing were unsurprisingly flawless.
Strat #001 is beginning to die: he definitely had a few problems with it and I think this was probably the last time we'll see him use it at a gig.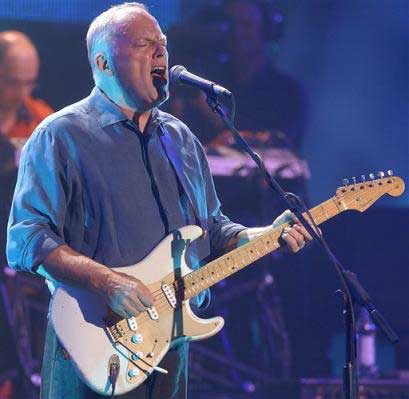 Other points of interest:
In my opinion, David deliberately chose 3 songs which were completely his. This is obviously not good news for those of us who dream of the day when he and a certain other grey-haired genius stand on the same stage and perform together once more! He clearly no longer wants to have anything to do with Roger, which is really sad. I.e. Instead of playing Shine On, he played his own version: Marooned. Instead of playing Comfortably Numb, he played his own version: Sorrow.
Unfortunately, Shine On and Comfortably Numb, are in a different class to Marooned and Sorrow, so I would be lying if I said I didn't feel slightly disappointed that those two songs weren't played. I have a feeling some of the people attending were VERY disappointed, and I heard multiple shouts of "Comfortably Numb!!!" as DG was walking off the stage.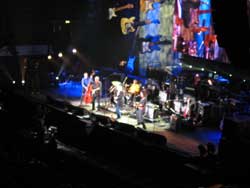 Having said that, I am still in complete awe of what I just experienced. I would be incredibly grateful if DG came on stage, twanged a single string and walked off. So having him stand there and play 3 full-version Floyd songs right there in front of me was just mindblowing. At several points during the songs I had tears in my eyes.
On a funny note, I noticed that at the beginning of the show, when the list of names were read out, David got more cheers and applause than all of the other names put together! It was clear who the majority of the audience had come to see! And also, when he finally came on stage, at least 10 or 20 people ran down the aisle and sat kneeling (almost in prayer position!!) watching David play. And nobody told them to get up or leave, because I think the entire arena was just in awe of the world's greatest guitarist.
David joined all the other guitarists on stage for the final song (he was just playing simple chords, as were all the other 20+ guitarists, Ronnie Wood was singing and playing.)
For those of you who could not make it to this incredible gig, you'll be pleased to know that the whole show was recorded professionally for release as a DVD.
Thanks to DawnMist
---
[metaslider id=5247]
Above pictures thanks to Gonzo & John Davies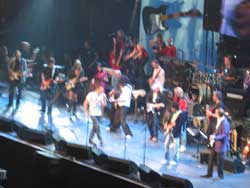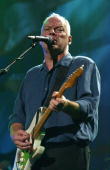 This brief report came in from out friend Werner Haider who runs the popular Pulse & Spirit online magazine.
Dave's playing was wonderful! However, he was kind of shy, in that he didn't talk to the audience except to say 'Thanks' & 'Goodbye'.
When all the guitarists came back on stage for the final number, David looked very serious, however, he sometimes smiled over to to Garry Moore and Brian May.
Marooned was fantastic, he still has it!! Coming Back To Life, not my favourite, but he performed it and I liked all of it! Sorrow had a great intro and was played very aggresively, fantastic playing again! Phil Manzanera was on stage with David the whole time.
---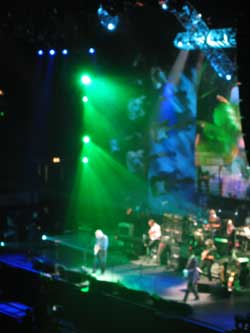 Famous guitarists such as Ron Wood of the Rolling Stones, Brian May of Queen, and Eagle's Joe Walsh played at Wembley Arena on Friday night in a concert celebrating the 50th anniversary of the Fender Stratocaster.
When he took the stage at the outdoor* concert on a cold night in England, David Gilmore (sic) of Pink Floyd brought some of the packed crowd to its feet by playing the first-ever Fender-made 001 model of the guitar. (*It was an indoor concert. Ed)
The concert, which raised money for the Nordoff-Robbins Music Therapy charity, also featured guitarists Hank Marvin of the Shadows, Gary Moore of Roxy Music, and Genesis' Mike Rutherford.
They made up a collaboration of big Stratocaster-playing figures in the history of rock 'n' roll spanning five decades.
Reaching back the farthest, the Fender's Miller Strat Pack concert also featured members of Buddy Holly's legendary Crickets band.
Yahoo Entertainment News
---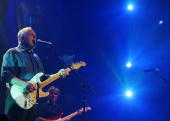 Former Roxy Music guitarist Phil Manzanera comes on for a rousing rendition of '6PM'. Wearing a sharp cut tie-less suit he energetically leads the band before being joined by former Pink Floyd man David Gilmour. Gilmour joined Pink Floyd in 1968 replacing Sid (sic) Barrett. This is a moment that the majority of the vast crowd have been waiting for. He was due to play the first Stratocaster made (#001) which he owns, but nothing was made of it if he did. Although he did change from a very old looking white guitar after the first song. First up is 'Marooned' from the album 'Division Bell', which reached the top spot on the Billboard charts for 4 weeks in 1994. Gilmour's classic lead guitar melodies sitting atop drifting keyboards is well received as he journeys through 'Coming Back To Life' and 'Sorrow'. It may be a bit self-indulgent to the uninitiated but surely that's what the crowd has come to see. Guitar solos, classic songs & rock genius.
Soundgenerator.com
---
BUY THE DVD USA  | UK  (Amazon ship worldwide)