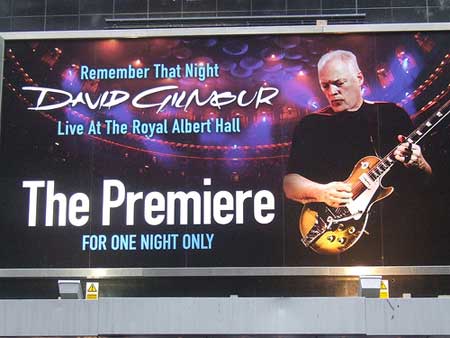 Odeon Leicester Square (London)
All pictures thanks to Lauren, Mark Reed, Mike Lacy & azza200
David was at the HD Cinematic World Premiere of Remember That Night, his live concert film that was filmed at the Royal Albert Hall in 2006. The event was transmitted live via satellite simultaneously to other theatres in the UK and Europe. During the evening, David answered a selection of fan questions and performed Castellorizon. At the conclusion of the show David invited his touring band to the stage, where they went into an extended 'Island Jam'.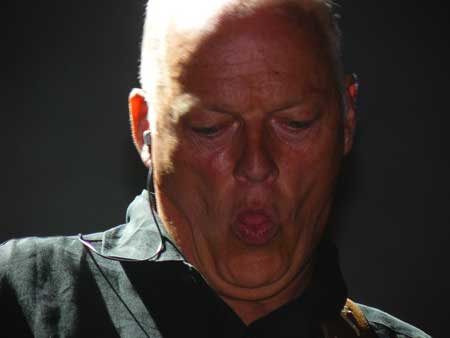 Just got back from the Odeon, Leicester Square in London's swinging West End. The occasion was the launch event for David Gilmour's forthcoming DVD Remember That Night. This was the live show, that was being broadcast to other cinemas around the UK and Europe.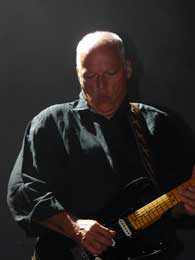 It was introduced by Stuart Maconie, a professional Lancastrian from BBC Radio 2 and I think at least some of it is available on the BBC web site. Then the great man turned up to introduce the show by playing Castellorizon sans band, against a backing track. This segued perfectly into the showing of a ~90 minute excerpt from disc 1 of the HD version of the DVD – David drops out at the end of Castellorizon and we're off into On An Island. It has to be said, that the HD is generally stunning, although it doesn't appear to cope well with low light or poor contrast – at times it looks as ropey as the DSOT video, but maybe that's just an effect of the very large cinema screen.
As I said this was an excerpt from the 2.5 hour first disc of the 2 disc set set and we got 5 or 6 tracks off OAI followed by, in no particular order, SOYCD, Time, Division Bell, Time, Arnold Layne (with David Bowie), WYWH, doubtless some other stuff I can't remember and the highlight of the show, Echoes. Marc Brickman had dressed the usually staid Odeon with a number of varilites, which announced their presence during the 'seagull' section and as the piece grew to its climax the stage was teeming with dry ice and some laser effects just for good measure. This was cleverly designed to match the effects going on on the DVD so it gave a bizarre 3D effect to go with the surround sound. It looked stunning.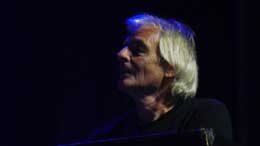 After that DG reappeared for a Q&A session with Maconie which was a mixture of hand-picked questions (presumably from the DG.com bloggers) and rather bravely, audience members. It was the usual anodyne stuff: no-one asked about Floyd, everyone remembered to call him David. The nearest anyone got to PF was to ask what he planned to do next. Naturally our hero was giving nothing away, although he did say we shouldn't give up on him quite yet. The only other remotely interesting question was which recent track would he cover. Without hesitation he said Crazy by Gnarls Barkley – they sound check with it a lot and really like it. Oh and guitar fans may be interested to know that Fender have finally got round to making a David Gilmour signature strat.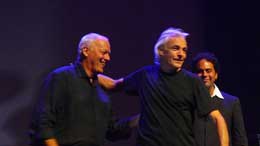 Last but definitely not least he grabbed a guitar for a final jam…and pulled out of the audience Rick Wright, Guy Pratt, Jon Carin, Phil Manzanera, Dick Parry and Steve Di Stanislao. Lordy! Anyhoo, they amble through a very competent Island Jam and that is that. A pretty good evening all in all. All I have do do now is persuade Mrs Andy to let me install some varilites in the lounge to go with the 5.1 system and I can recreate it all in the comfort of my own home.
With thanks to Andy Saltiel
---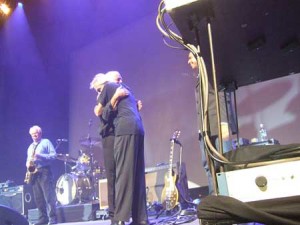 I just got back from cinema in Ede, Holland. I have to say it was definitely worth the money. Although the live broadcast was very sharp, the dvd seemed to be compressed and was a little grainy in low-light parts. Sound is absolutely great (what'd you expect from a cinema:P ).
The video camera-wise is not my taste. Unlike Pulse, there are not a lot of crane camera shots, and a lot of stage. While this is probably done to 'show the intimacy of the show', I think there too many unfocused shots, with the camera moving everywhere but the place you want to see. Nice detail for the guitarists here: we get to see David using the Pitch-shifting pedal. really cool toy .
When I got in, they just started showing the "David Gilmour Documentary", wich appeared to be the tour documentary found on the dvd. There were shots of Vienna, Venezia, Gdansk and other places as well I think.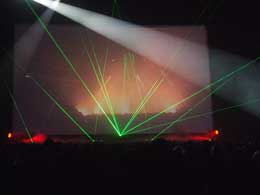 Setlist (from the top of my head, so correct me if I'm wrong):
1. Castellorizon (live by David)
2. OaI
3. This Heaven
4. The Blue
5. Take A Breath
6. Shine On
7. Time
8. Arnold Layne (with David Bowie)
9. High Hopes
10. Wish You Were Here
11. Echoes.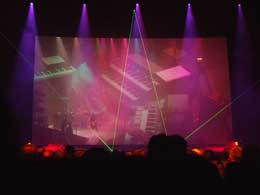 Needless to say Echoes blew me away, it was so powerful. Felt like flying in outer space.
Q&A was a bit chaotic and with some dull questions, but with some rather interesting ones too.
After the Q&A the band unexpectedly emerged to play a fantastic jam with David.
With thanks to Floydian1988
---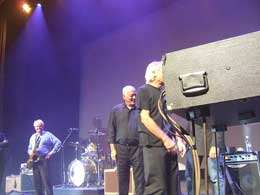 The view from A37 is of a gigantic speaker stack. I can't see ANYTHING else.
Seriously. The speaker stack is about ten feet wide and ten feet tall. It obscures the screen at the cinema entirely. I find the manager, who provides me with a ticket for row P. Row P. At least I can see the screen.
David Gilmour performs solo on electric guitar. "Castellorizon" from his latest album. He's about twelve feet away. I can just see him from behind the speaker stack. His playing is, as ever, economically divine.
I race from A37 to P20. For the next 85 minutes I luxuriate in widescreen movie glory.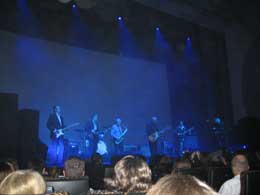 The film is a precise representation of the live show : concentrating on the music and the playing, the emotion and the moment. Dispensed with are the gimmicks. The flying beds and silver balls are replaced by a verisimilitude of feeling. It is better than any other concert film of David's work be it as part of the Floyd or not.
During "Echoes", as David Gilmour and band explore the side-long classic jam, the theatre fills up discreetly. Rolls of dried ice smoke across the front, pass the front rows, stretch into the theatre. As the number moves into the well-known 'seagull' jam – in which David curls form his guitar the plaintive cries reminiscent of seabirds – strips of light block out the theatre. And a thin green prism laser blinks into life.
It is just like the show itself. It is effective and great theatrics. The theatre descends into a symphony of light and sound and ice.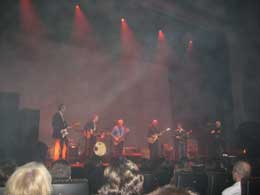 As the movie ends, the theatre burst into applause. David takes the stage and answers Questions. He picks up his Stratocaster. Number #001, in fact. With the distinct guitar strap that formerly was worn by Jimi Hendrix. He picks out a couple of notes. Gentle, rolling notes. A drum kit is rolled on stage. Jon Carin picks up a guitar. A Kurtzweil organ appears, and Richard Wright – in regulation black trousers and tshirt – picks out some familiar notes. Steve DiStanislao shuffles a familiar rhythm. Guy Pratt picks out familiar bassline. Phil Manzenera strums along.
David and his band of Floyd alumni ramshackle through an extended version of the bonus track "Island Jam". The song dips and turns and curves and dives. Jon grins and smiles at Richard. Richard bounces up and down excitably. David picks out notes of some precise beauty. The song reaches the climatic finale, and the team hug and embrace before calling an end to this particular campaign. The room is rapt and on their feet.
And that was my day.
Castellorizon (Live – David only)
On An Island
This Heaven
The Blue
Take A Breath
Shine On You Crazy Diamond
Time
Breathe, reprise
Arnold Layne
High Hopes
Echoes
Q&A with David
Island Jam (Live – David and Touring Band)
With thanks to Mark Reed
Buy the DVD! Amazon USA | UK