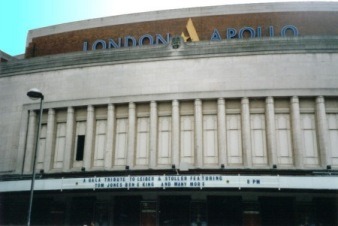 Pictures thanks to Phill Waters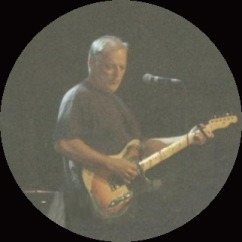 I picked Phil W up at about 1.30 at his mums house in North London, we then drove down to the Hammersmith Odeon, this was the venue for the gig that evening. It was a charity gig, in aid of the Nordoff Robbins childrens charity, hence the best seat tickets weren't cheap, $80 !
We arrived at the venue about 2.30, parked the car up and "scoped" the place. There were about 6 other people there that were obviously looking out for a few Autographs as well.
Phil and I took our places on the front steps right next to the Artist entrance, there was a young security girl on the entrance and it soon became apparent that most of the stars arriving were not stopping to give autographs, they were driven right in to the venue past the security.
Bob Geldof was on the bill and I'd brought my Wall DVD cover just in case we managed to see him, we did but he remained in the car and went straight through.
We' had been sat there about an hour and we were both hungry and thirsty, we talked about going for something but we both agreed that if we did that, Gilmour was sure to arrive when we weren't there.
After a further hour of watching people arrive and leave, most of who we had no idea who they were, people were signing autographs left right and centre, Phil and I just sat there waiting, and waiting and waiting for just one man!
About 4.45 the mention of food and drink came up again, everyone we had seen had entered by a Limo or chauffeur driven car. Phil was joking saying "just think if it was Gilmour in that Taxi that had just pulled up", we watched the person get out of the taxi, looked at each other and ran like fuck!!!!!!!!, it was Gilmour!!!.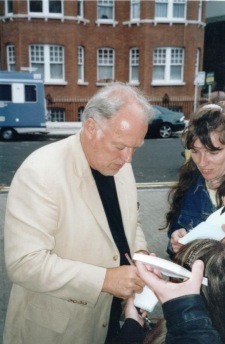 The taxi had dropped him off outside on the street literally straight in front of us about 20 feet away.
The other people waiting didn't really notice him at first as no one was looking for anyone that was getting out of a cab.
Phil was the first to talk to Dave, he shook his hand and said some brief words to him. He was smiling he was jolly and he was obviously gonna speak to the people and sign a few things.
I had the video in one hand and the pictures that I had brought to get signed in the other. In the mad dash to meet him, Phil had left his pictures where we were sat.
I gave Phil the pile of things I had brought to get signed along with a pen and told him to go for it.
I started the camera Stream the Video and just worked my way towards him.
The first thing I said was " fantastic gig last Friday Dave, thanks", he said "thanks".
Then I continued to ask him "what made you choose the setlist that you did last week?", he looked straight at me , shrugged his shoulders and said "madness".
Phil was laughing , I think he thought I was gonna sit Dave down and start a full 30 minute interview with him, LOL
There were a few "general" autograph hunters and one guy said, "hey Dave I saw you in 1967 with Pink Floyd , you were great", to which Dave replied "1967, I don't think so, I wasn't with them then"
Phil had managed to get a couple of the things signed that were in the folder I'd given him but his stuff was still on the step where we'd been sat, I told Phil there were about 4 pictures in the folder to get signed.
After about probably 2 minutes he said, "ok that's it no more" and started to walk towards the security entrance, one guy ran up to him and said "just one more Dave" to which he did and then went into the Venue.
That was pretty much it, he was in a very good mood, very happy to talk to people , sign things and pose for pictures. I though he looked a lot better than he did last weekend for the solo gig, maybe that was because he was dressed in a smart jacket.
Phil and I then hit the Pub till we met up with Chris Leith at about 6.30. Chris was gutted that he'd missed Gilmour.
Chris is a major, major Gilmour fan, I remember thinking when I was filming Gilmour, " shit I wish Chris could have been here"
The 3 of us sat in the car, watched the video footage and then proceeded to enter the venue, Chris had brought the Mikes and the Minidisc recorder and I was in 2 minds whether to take the Video in or not, I didn't but wished I had!
Upon entering the venue we'd seen the signs everywhere stating that we would be filmed for future television broadcast Phil, Chris, his mum and his wife were sat in the 4th row and I was in the 5th directly behind them, I've never sat in a venue with seats as close as they were, I have long legs and my knees were right up against the backs of the seats in front. , there was a boom camera front right of stage and about 7 or 8 all round the venue.
The show was basically a tribute to the history of the song writers, Leiber & Stoller.
There were all sorts of stars there, and each one came on and did a version of a Leiber & Stoller song that they had chosen as their favourite.
There was a 15 minute interval half way through which was just as well cause I had dropped the Minidisc recorder and it had fallen under the seat !.
I noticed that most of the front row was enpty during the first set so I went and sat front row dead centre, before long others had obviously noticed the same and it was full :>)
About half way through the second set, Gilmour was anounced and he came on with an old 50's Fender Telecaster, (he was wearing the same dark blue T shirt that he wore the week before and the same black jeans) and did a track that was written by Leiber & Stoller and originally performed by Elvis Presley. The track was actually quite good and had a small guitar solo in the middle.
But as I watched him from no more than 15 feet away, I swear I thought , the guys past it. His hands looked to be shaking, his eyes looked to be distant, he looked totally different from the person we had met outside a few hours earlier . I honestly dont think he could pull off another Floyd tour even if he wanted to, he looked terrible.
He came on at the end of the gig also, and just did a bit of jamming on the guitar, he made sure he stayed in the distance though.
After the gig, we headed to the same security entrance that we had been at during the day, obviously there were a few more people there and as we looked down to the entrance I could see Gilmour stood outside with his back to us, I shouted to Chris and he confirmed" yeh thats him"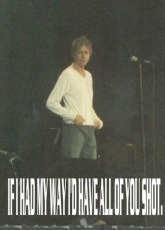 There was a silver Mercedes trying to reverse up the drive way to pick him up, it was the same one as the one we saw at the gig last week
The security wouldn't let the car reverse up, "forcing" Gilmour to have to walk to 50 feet or so to the car, he was absolutely Livid !!!!!!!!!
He was shouting at the security guy asking for his name and said " can't you do your job properly", he was fuming, there were a few coarse words exchanged and the people that were waiting to get his autograph even backed off and no one aproached him!
He got in the car and was driven off into the London traffic.
We got back to Chris's house about 1.30am and planned our events for the next day :>)
Thanks to Simon Wimpenny