We were contacted some time ago by a film/video distribution company who advised us that they had some vintage unseen footage of Pink Floyd, that had never been released anywhere.
Recently, we were contacted by them again to say that they were in the process of preparing for sale footage from the BBC 1968, Bath Festival 1970 and Amsterdam 1972.
It appears as if these three lots of footage will be released on one DVD.
It's understood that there is still some work to be done on the DVD, and it may be some months before it finally sees the light of day
A price of $30 (US) has been mentioned.
A Fleeting Glimpse now has an exclusive & very special treat for you. We have been given a small clip from the Amsterdam 1972 show, that is quite sensational! The sampler runs for just under 4 minutes and can be seen below.
We know nothing more than what is revealed above. Please do not email us about this. Also we WILL NOT be taking orders for this material, but as soon as we know, we will provide you with details where you can buy this amazing footage.
Once again, please do not contact us about this, we know nothing more.
The distributors of the DVD have now advised prospective purchasers as follows
It is time to process orders for the limited edition Pink Floyd DVD "Mind Your Throats Please". Thanks for your patience! You may submit payment via paypal using the email address shroom@trinicom.com The cost for International orders (meaning anything outside the continental USA) is $33.00 and the Domestic price (First Class mail included) is $27.00
Please be sure and put FOR Pink Floyd DVD in the comments box. We expect to start shipping DVD's by Sept. 8th but if we don't make that exact date you will be notified via email as to when they will ship but we are on schedule so no worries.
Proceeds from the sale of this DVD go directly to the restoration and transfer of a wealth of video materials in storage in Europe which we have discovered. The Bath and Amsterdam footage was contained in this storage and we believe there is more.
Thank you all for supporting this endevour and we hope one day Pink Floyd themselves will come to appreciate the spirit behind this project and the end goal of preserving our rich musical history for generations to come.
If you have any questions related to the order processing please email us at this email address. I graciously ask everyone to refrain from asking about anything other than ordering because otherwise I get deluged to the point of not being able to properly handle everyone's orders which will ultimately delay everything. Please refer to posted reviews and information provided by your friendly cyber-neighborhood Pink Floyd experts!
---
'Mind Your Throats Please' DVD – Review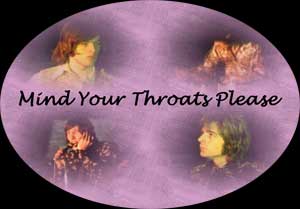 Let me say at the outset, if you are looking for a slick DVD, with crystal sharp quality, and mind blowing SACD sound, then this isn't for you.
If on the other hand, you are looking to see some gobsmacking performances, from a Pink Floyd who were almost at their absolute performing peak, then this is a MUST BUY.
The main claim to fame here is that this DVD features the first and last performance of Atom Heart Mother. (AHM) So, we have footage from Bath (1970) and the Amsterdam Rock Circus (ARC) (1972)
Also included are the raw takes that were used in the BBC's All My Loving TV program (1968). (See pic above)
The DVD starts out with the opening theme of AHM, with some nice special effects.
The menus are easy to navigate, with main links to Bath, ARC or BBC.
First, the Bath footage. This is in B&W. The picture quality is not top notch, but I have seen a lot worse, and this is at least watchable. The performance by the band, and also the orchestra (conducted by John Aldiss) are a bit of a shambles, in fact at one point, the whole performance stops! The choir were pretty on the ball though! I must confess to having seen this footage elsewhere, so it wasn't a great surprise, but it is definitely something a collector would love to have.
Now to the Amsterdam Rock Circus. Once again in B&W. This is truly wonderful footage, and I was totally engrossed in it. You could easily visualise yourself being there, and this was the Floyd at their absolute best!
This wonderful set consists of Atom Heart Mother, Careful With That Axe Eugene, and A Saucerful Of Secrets. Each and every song played brilliantly, with some standout performances from Nick & Rick on A Saucerful Of Secrets. Look out for the pyrotechnics and the flaming gong! Wonderful, wonderful stuff.
The video quality is actually very good, but do consider this was a hand held camera, although he did a good job on most of it. Soundtrack is surprisingly good.
Now to the bonus extras.(Colour/color) This is quite incredible. Amazing, pristine video, with top notch sound. It features various outakes of Set The Controls For The Heart Of The Sun, and is just something that has to be seen to be believed. Each band member is featured in fine detail, and this is truly historic Floyd footage.
The DVD also features a number of 'artifacts' which are quite interesting.
Conclusion. This is amazing. I never thought video of this quality could survive this long. An absolute must for any Floyd nut. Go for it, you won't be sorry.
---
A Fleeting Glimpse wishes to stress that our only involvement with this DVD is to bring you the news of it's existence, we have no other interest in this project, financial or otherwise.