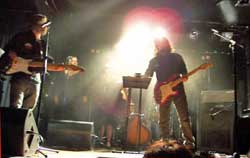 There is little doubt (although I may be biased) that Australian Pink Floyd tribute bands are some of the best in the world, consider the likes of the Australian Pink Floyd, and Beyond The Dark Side.
After Beyond The Dark Side left these shores last year, Australia was left bereft of a decent Pink Floyd show. However that all changed on Friday night, (25 Nov) after a spectacular debut performance from the Sydney band 'Shine On'.
This talented bunch of musicians really put in a fine performance, that had the capacity crowd giving thunderous applause after every song and several standing ovations.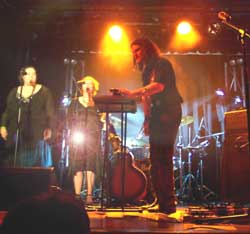 Shine On are not a typical Floyd tribute band though. For a start, the line up of nine (yes 9!) included two leads, two keyboards and an unusual set list!
They took to the stage whilst Absolutely Curtains played on the PA, and from that moment on, we knew we were in for a treat. A brief snippet from Give Birth To A Smile soon confirmed that!
Launching into Shine on (Pt 1) they immediately had the crowd buzzing. Next came Wish You Were Here, which to me seemed out of place, and the crowd after being 'up' for Shine On, now settled into a more somber mood. In my opinion, the band should have played this towards the end of the set, but it was still played very very well. However, the mood soon rose again, when an absolutely great version of Shine On (Pt2) kicked in.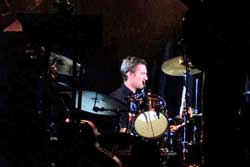 Next came In The Flesh, and this was a great version that really rocked. The crowd were now starting to really get into this. It was certainly different that the two leads shared the vocals & guitar duties, but it worked, and the number finished to rapturous applause.
They then slid through The Happiest Days Of Our Lives, which once again was played to perfection.
Next came Another Brick (Pt2) that really got the crowd going. To my ear, this was played slightly faster than usual, but it all fitted together nicely.
Mother! Yes Mother was next, and now the crowd were totally engrossed, and the applause seemed to go on forever.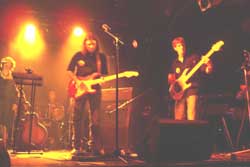 Perhaps one of the biggest surprises was Astronomy Domine, which I adored. The band put some of their own touches to this, and I for one was a very happy chappy. Nice, nice nice!
I had been given a clue that Echoes was going to be played, and as Echoes started up, I had a big beam on my face. HOWEVER, the band stopped playing it at the end of Part 1, and buggered off for a break! This I wasn't pleased about, and remarked to a few people 'what happened to the end of my song?' But the band had been sneaky, as when they took to the stage once more, that strains of Echoes (Part 2) started up. I'm not sure that this worked. I know Echoes is split up on Pompeii, but I don't think this really worked at a live performance. I mean the playing was sensational, but to break it up into 2 parts, with a 20 minute break in between was perhaps not a good idea. If the band play this live again, then I would suggest they play it as one piece.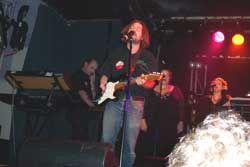 Next came pretty much the full Dark Side suite. I have seen this performed live quite a few times by other tribute bands, so I was doing a lot of comparing, and I must say that 'Shine On' put in a very solid performance on this. I do have a minor quibble though. The two back up singers performed extremely well all night, but when it came to Great Gig, they backed off. Both girls have great voices, but Great Gig needs to be attacked with a Clair Torry type vocal. Both girls cleverly avoided going for the really high notes, but I really felt that they had it in them to really go for it, but kept it down key a bit for fear of failing. Go for it next time girls, I KNOW you can do it!
At the conclusion of Dark Side the band left the stage, and the crowd stood as one, as thunderous applause echoed throughout the auditorium. Yells and screams of more, more, more could be heard (many of them coming from me!) and a sustained ovation continued until the band retook the stage.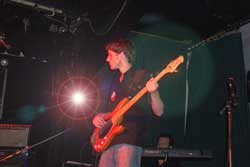 I felt the hairs on my arms bristling as the first strains of Comfortable Numb started up, and this was BRILLIANT. The lead was played to perfection, and even Mr. Gilmour would have been proud. To me, this was the highlight of an already incredible performance, and will long remain in my memory.
Another surprise! Sheep was next, and this also really rocked, with a number of the crowd now up on their feet and dancing their buns off. Rock & Roll baby!
The obligatory Run Like Hell was the close, and once again this was played with venom, with the band totally involved with it. Pity that one of them didn't make the clenched fist gesture to the crowd, as I'm sure that just about everybody would have been drawn in, it just needed somebody to lead it.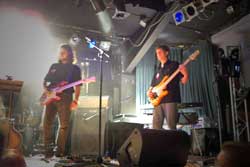 Lighting was kept to a minimum, with basically house lights being used, supplemented by a bank of mirror balls. The lighting was really secondary to this performance, as the band concentrated on the music rather than a multimedia experience. It was all that was required really (apparently the band has access to a Mr. Screen, but it wouldn't fit on the stage at the venue, so was dropped.) It was a bit disconcerting having lights shined in our eyes for a great deal of the night, but this was down to the venue lighting man, and was not the bands fault.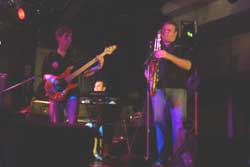 There is amazing potential in 'Shine On'. As I said at the start, this is a bunch of really talented musicians, that will go on to carve out a place for themselves in music. I doubt they can contain a cast of nine however, there just isn't enough money to sustain those sorts on numbers.
Conclusion. After the performance I spent a lot of time with the band. The offers are already starting to appear on the horizon, and I don't think it will be long until they are snapped up by some savvy promoter. This could be the dawn of a new era, and if 'Shine On' do ever appear in your town, my advice is GO SEE 'EM!  Col T
Dean Bennison – Guitar/Vocals
Chris Rollans – Guitar/Vocals
Alex Wray – Bass/Vocals
David Eaton – Keys Vocals
Tim Fisher – Keys
Lachlan Rankin – Drums
Nick Jeffries – Sax
Kat Stewart – Vocals
Rebecca Shephard – Vocals
Shine On (Pt1)
Wish You Were Here
Shine On (Pt2)
In The Flesh
Happiest Days
Another Brick (pt2)
Mother
Astronomy Domine
Echoes (Pt1)
Interval
Echoes (pt2)
Breathe
On The Run
Time
Great Gig
Money
Us & Them
Any Colour You Like
Brain Damage
Eclipse
Encores
Comfortably Numb
Sheep
Run Like Hell
Credits. Most pictures are thanks to Ric from the UNofficial Floyd Forum A special hello also goes to Jason E from our Pink Floyd Forum.