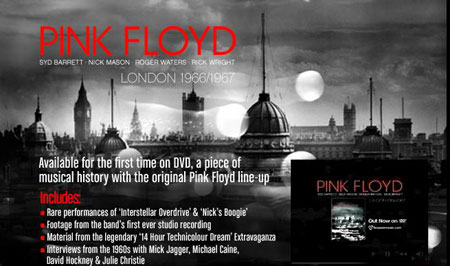 Originally released on video some years ago under the name 'Tonite Let's All Make Love In London', this long awaited DVD is a very smooth production indeed.
For those that haven't seen the original video, this is a fascinating look at the early days of Pink Floyd, when Syd Barrett was still in the band
The movie was filmed by Peter Whitehead, and features rare performances from the band at the recording session at Sound Techniques, London, in 1967.
There's also footage of the legendary 14 Hour Technicolor Dream, and UFO.
The DVD is very easy to navigate around, with suitable background music. It includes interviews with Mick Jagger, Michael Caine, David Hockney (who I wanted to smack around the head with a wet fish) and Julie Christie.
There's stacks of additional footage, including some great scenes from the 14 Hour Tech, where you can see John Lennon moving around in the crowd. Also, there's a brief scene from Yoko Ono's 'happening' (but you don't see Yoko). It's said that this was the first time they met.
Included is a very interesting interview with Peter Whitehead, who talks about his friendship with Syd Barrett (Who the movie is dedicated to). There's also a section called Peter Whitehead's 60's Experience, which contains some splendid footage of swinging London.
This is a must have for any Floyd fan.
The DVD is available now in the UK and Europe, and the US. The special US edition also includes a bonus audio CD featuring Nick's Boogie (11:50) and Interstellar Overdrive (16:46)
---
Competition Winners
Here's the results of our Pink Floyd – London 1966/1967competition
Richard Thompson – New Zealand – UK edition DVD
Amar Ghimire – U.A.E. – UK edition DVD
Angela Baerwolf – USA – USA edition DVD
Claudia Alvis – USA – USA edition DVD
Michael McCarthy – USA – T-Shirt
Congratulations to all winners
---
Order the DVD Here USA Edition | UK Edition