---
---
---
---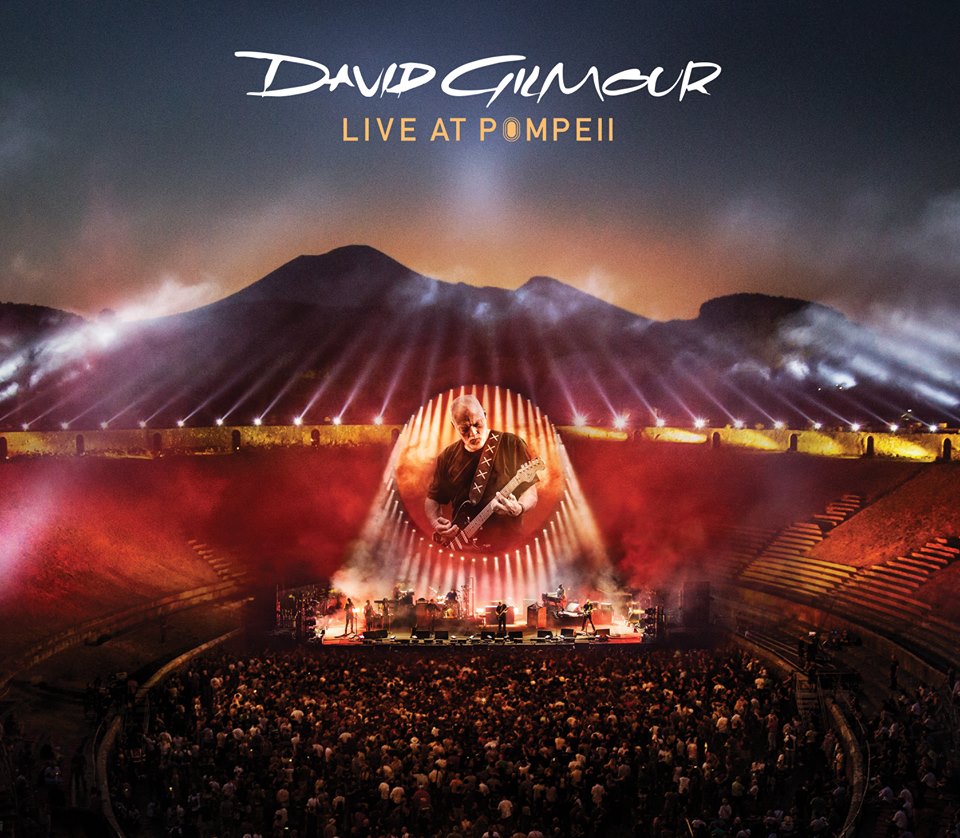 Only a select few fans were able to witness David Gilmour's ground-breaking return to the Pompeii amphitheatre for a brace of incredible performances in July 2016, but from 29th September every fan will be able to experience them, with the release of the recording of those concerts on CD, Blu-Ray, DVD, LP and download.
Released via Sony Music, Live at Pompeii will be available on 2-CD, Blu-ray, 2-DVD, 4-LP, deluxe Blu-ray box and download. The Blu-ray and DVDs include highlights from the concert performances of both shows, filmed in 4k by director Gavin Elder. The audio, available on CD and LP, was mixed by Andy Jackson and David Gilmour, assisted by Damon Iddins. The formats run to around 148 minutes each, with more than 2 additional hours of material included in the deluxe 4-disc Blu-ray / CD set.
The Pompeii concerts marked a return by David to the venue 45 years after Pink Floyd filmed in the legendary Roman Amphitheatre there, his two spectacular shows forming part of the year-long tour in support of the No.1 album Rattle That Lock. David's performances were the first-ever rock concerts for an audience in the stone Roman amphitheatre, and, for two nights only, the 2,600-strong crowd stood exactly where gladiators would have fought in the first century AD.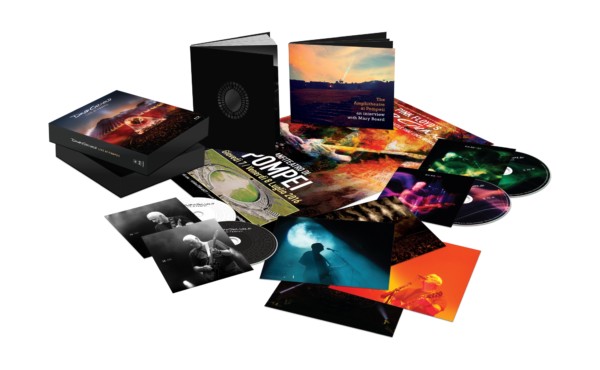 The stellar performances are complemented by an audio-visual spectacle, featuring lasers, pyrotechnics and a trademark huge circular screen, but paramount is the music; the show includes songs from throughout David's career, solo and with Pink Floyd, including One Of These Days, the only song that was also performed by the band there in 1971, and six songs from Rattle That Lock, as well as two from 2006's On An Island.
The release of Live At Pompeii will be preceded by a worldwide cinema screening of around 107 minutes – see www.DavidGilmourCinemaTickets.com for more details. Live At Pompeii showcases an artist at the top of his artistic game, performing incredible material with his world-class band, in a unique setting, on one very special occasion.
---
ALL FORMATS ARE NOW AVAILABLE TO PRE-ORDER ON AMAZON
We do not receive any funding at all, so donations are most welcome or you can support this site by using our sponsors links. This is especially true with Amazon, so if you wish to purchase ANYTHING from Amazon, please use our special links. USA | UK | CANADA Thanks!
Live At Pompeii Double CD

1. 5 A.M. (Live At Pompeii 2016)
2. Rattle That Lock (Live At Pompeii 2016)
3. Faces of Stone (Live At Pompeii 2016)
4. What Do You Want From Me (Live At Pompeii 2016)
5. The Blue (Live At Pompeii 2016)
6. The Great Gig in the Sky (Live At Pompeii 2016)
7. A Boat Lies Waiting (Live At Pompeii 2016)
8. Wish You Were Here (Live At Pompeii 2016)
9. Money (Live At Pompeii 2016)
10. In Any Tongue (Live At Pompeii 2016)
11. High Hopes (Live At Pompeii 2016)
12. One of These Days (Live At Pompeii 2016)
13. Shine On You Crazy Diamond (Pts. 1-5) (Live At Pompeii 2016)
14. Fat Old Sun (Live At Pompeii 2016)
15. Coming Back to Life (Live At Pompeii 2016)
16. On an Island (Live At Pompeii 2016)
17. Today (Live At Pompeii 2016)
18. Sorrow (Live At Pompeii 2016)
19. Run Like Hell (Live At Pompeii 2016)
20. Time / Breathe (In The Air) (reprise) (Live At Pompeii 2016)
21. Comfortably Numb (Live At Pompeii 2016)
1. 5 A.M. (Live At Pompeii 2016)
2. Rattle That Lock (Live At Pompeii 2016)
3. Faces of Stone (Live At Pompeii 2016)
4. What Do You Want From Me (Live At Pompeii 2016)
5. The Blue (Live At Pompeii 2016)
6. The Great Gig in the Sky (Live At Pompeii 2016)
7. A Boat Lies Waiting (Live At Pompeii 2016)
8. Wish You Were Here (Live At Pompeii 2016)
9. Money (Live At Pompeii 2016)
10. In Any Tongue (Live At Pompeii 2016)
11. High Hopes (Live At Pompeii 2016)
12. One of These Days (Live At Pompeii 2016)
13. Shine On You Crazy Diamond (Pts. 1-5) (Live At Pompeii 2016)
14. Fat Old Sun (Live At Pompeii 2016)
15. Coming Back to Life (Live At Pompeii 2016)
16. On an Island (Live At Pompeii 2016)
17. Today (Live At Pompeii 2016)
18. Sorrow (Live At Pompeii 2016)
19. Run Like Hell (Live At Pompeii 2016)
20. Time / Breathe (In The Air) (reprise) (Live At Pompeii 2016)
21. Comfortably Numb (Live At Pompeii 2016)

Live At Pompeii Blu-Ray

1. 5 A.M. (Live At Pompeii 2016)
2. Rattle That Lock (Live At Pompeii 2016)
3. Faces of Stone (Live At Pompeii 2016)
4. What Do You Want From Me (Live At Pompeii 2016)
5. The Blue (Live At Pompeii 2016)
6. The Great Gig in the Sky (Live At Pompeii 2016)
7. A Boat Lies Waiting (Live At Pompeii 2016)
8. Wish You Were Here (Live At Pompeii 2016)
9. Money (Live At Pompeii 2016)
10. In Any Tongue (Live At Pompeii 2016)
11. High Hopes (Live At Pompeii 2016)
12. One of These Days (Live At Pompeii 2016)
13. Shine On You Crazy Diamond (Pts. 1-5) (Live At Pompeii 2016)
14. Fat Old Sun (Live At Pompeii 2016)
15. Coming Back to Life (Live At Pompeii 2016)
16. On an Island (Live At Pompeii 2016)
17. Today (Live At Pompeii 2016)
18. Sorrow (Live At Pompeii 2016)
19. Run Like Hell (Live At Pompeii 2016)
20. Time / Breathe (In The Air) (reprise) (Live At Pompeii 2016)
21. Comfortably Numb (Live At Pompeii 2016)

Live At Pompeii 4 x LP

1. 5 A.M. (Live At Pompeii 2016)
2. Rattle That Lock (Live At Pompeii 2016)
3. Faces of Stone (Live At Pompeii 2016)
4. What Do You Want From Me (Live At Pompeii 2016)
5. The Blue (Live At Pompeii 2016)
6. The Great Gig in the Sky (Live At Pompeii 2016)
7. A Boat Lies Waiting (Live At Pompeii 2016)
8. Wish You Were Here (Live At Pompeii 2016)
9. Money (Live At Pompeii 2016)
10. In Any Tongue (Live At Pompeii 2016)
11. High Hopes (Live At Pompeii 2016)
12. One of These Days (Live At Pompeii 2016)
13. Shine On You Crazy Diamond (Pts. 1-5) (Live At Pompeii 2016)
14. Fat Old Sun (Live At Pompeii 2016)
15. Coming Back to Life (Live At Pompeii 2016)
16. On an Island (Live At Pompeii 2016)
17. Today (Live At Pompeii 2016)
18. Sorrow (Live At Pompeii 2016)
19. Run Like Hell (Live At Pompeii 2016)
20. Time / Breathe (In The Air) (reprise) (Live At Pompeii 2016)
21. Comfortably Numb (Live At Pompeii 2016)




Live At Pompeii Deluxe Edition

2x Audio CD

1. 5 A.M. (Live At Pompeii 2016)
2. Rattle That Lock (Live At Pompeii 2016)
3. Faces of Stone (Live At Pompeii 2016)
4. What Do You Want From Me (Live At Pompeii 2016)
5. The Blue (Live At Pompeii 2016)
6. The Great Gig in the Sky (Live At Pompeii 2016)
7. A Boat Lies Waiting (Live At Pompeii 2016)
8. Wish You Were Here (Live At Pompeii 2016)
9. Money (Live At Pompeii 2016)
10. In Any Tongue (Live At Pompeii 2016)
11. High Hopes (Live At Pompeii 2016)
12. One of These Days (Live At Pompeii 2016)
13. Shine On You Crazy Diamond (Pts. 1-5) (Live At Pompeii 2016)
14. Fat Old Sun (Live At Pompeii 2016)
15. Coming Back to Life (Live At Pompeii 2016)
16. On an Island (Live At Pompeii 2016)
17. Today (Live At Pompeii 2016)
18. Sorrow (Live At Pompeii 2016)
19. Run Like Hell (Live At Pompeii 2016)
20. Time / Breathe (In The Air) (reprise) (Live At Pompeii 2016)
21. Comfortably Numb (Live At Pompeii 2016)

1x Bluray Full Concert
1. 5 A.M. (Live At Pompeii 2016)
2. Rattle That Lock (Live At Pompeii 2016)
3. Faces of Stone (Live At Pompeii 2016)
4. What Do You Want From Me (Live At Pompeii 2016)
5. The Blue (Live At Pompeii 2016)
6. The Great Gig in the Sky (Live At Pompeii 2016)
7. A Boat Lies Waiting (Live At Pompeii 2016)
8. Wish You Were Here (Live At Pompeii 2016)
9. Money (Live At Pompeii 2016)
10. In Any Tongue (Live At Pompeii 2016)
11. High Hopes (Live At Pompeii 2016)
12. One of These Days (Live At Pompeii 2016)
13. Shine On You Crazy Diamond (Pts. 1-5) (Live At Pompeii 2016)
14. Fat Old Sun (Live At Pompeii 2016)
15. Coming Back to Life (Live At Pompeii 2016)
16. On an Island (Live At Pompeii 2016)
17. Today (Live At Pompeii 2016)
18. Sorrow (Live At Pompeii 2016)
19. Run Like Hell (Live At Pompeii 2016)
20. Time / Breathe (In The Air) (reprise) (Live At Pompeii 2016)
21. Comfortably Numb (Live At Pompeii 2016)
22. Pompeii Then And Now (DOCUMENTARY)

1x Bluray Bonus Footage
1. Astronomy Domine
2. Us And Them
3. Today
4. Time / Breathe (In The Air) (reprise)
5. Comfortably Numb (Jon Carin – vocal)
6. 5 A.M. (Wroclaw, June 2016 –with Orchestra)
7. Rattle That Lock (Wroclaw, June 2016– with Orchestra)
8. Dancing Right In Front Of Me (Wroclaw, June 2016 – with Orchestra)
9. The Girl In The Yellow Dress (Wroclaw, June 2016 – with Leszek Możdżer)
10. In Any Tongue (Wroclaw, June 2016 – with Orchestra)
11. Comfortably Numb (Benedict Cumberbatch ) (Royal Albert Hall 2016)
12. Gavin Elder – Europe 2015 (Documentaries)
13. Gavin Elder – South America 2015
14. Gavin Elder – North America 2016
15. Gavin Elder – Europe 2016
16. 'David Gilmour: Wider Horizons' (BBC documentary)