Screened in some two thousand cinemas worldwide on September 13th, David Gilmour's Live at Pompeii is an impressive concert film in every aspect. We had a ticket for one of those screenings, and here's what we thought.
David Gilmour doesn't have to do anything if he doesn't feel like it. With the Pink Floyd chapter closed for good with The Endless River, the legendary guitarist can rest assuredly on his laurels, and seems to do just that most of the time. In between, and if we're lucky, we get treated to some solo material, lastly in the form of the very enjoyable Rattle that Lock. Gilmour subsequently went on tour to promote the album, and chose to do so in smaller venues with a more special feel. With a capacity of about two thousand spectators, the amphitheatre in Pompeii was the smallest of those, but surely the most impressive.
It had been 45 years since Gilmour first played the amphitheatre, then as part of the Pink Floyd outfit, 45 years younger, shirtless in the searing heat and without an audience other than band and crew. 71 years old now, the guitarist looks nothing like his younger counterpart in a short interview segment leading up to the concert. A matured, older man, he seems content with doing things like this on a semi-regular basis when he feels like it. He's surrounded himself with an impressive backing band that seems to relish in playing together. I for one can't remember any footage of Pink Floyd ever having much fun on stage, properly interacting with one another. On stage, however, it's still the same David Gilmour. Balder, more scruffy looking, but his vocals and guitar work remains nearly unchanged.
Pompeii is properly impressive. I've had the pleasure of going there once, years ago (although our group completely missed visiting the amphitheatre for some sad reason), and seeing the stage set up in the middle of the ancient ruins with mount Vesuvius looming large in the background is a spectacular sight to behold. You wonder why this is the first proper event held there before an audience since before Vesuvius erupted (the first audience since the gladiators, as Gilmour boasts in the preceding segment). The locale is simply magnificent, and the theatre is lit very impressively, with the stage and the ever-present round projection screen being at the centre of it.
When the gig starts off with 5 A.M. and Rattle that Lock (both of Gilmour's last album), the first thought running through your head is, "oh yeah, this isn't proper Pink Floyd." Not that the man's solo material is bad (far from it), but next to the legacy of Floyd it can seem more forgettable. I for one wasn't all that disappointed to find out they had made a number of cuts for tonight's screening, leaving out most of the solo stuff in favour of all the classic Floyd material. The sense of relief when the band tears into What Do You Want from Me (from The Division Bell) is palpable. What's kept from the latest album is the beautiful A Boat Lies Waiting, which is dedicated to Floyd keyboardist Richard Wright, who passed away in 2008, and the fantastic In Any Tongue, which definitely benefits from the amplified live performance here.
Rick Wright looms big over the entire evening. You get a sense that Shine On You Crazy Diamond is more about him tonight than it is about Syd Barrett, and the version of Great Gig in the Sky played here is utterly phenomenal, with the vocal arrangement shared by the three backing singers, of which particularly Lucita Jules makes a lasting impression with some truly impressive vocal work whilst Gilmour sits behind his console steel guitar like some mad wizard.
As Gilmour states at the beginning, Pompeii is a place of ghosts, and you can feel Wright's ghost lingering over the evening here. Noticeably absent for that same reason is Echoes, the conversation between Rick and David (as Gilmour states himself) which can no longer be held. Instead we get an impressive amount of choice Floyd cuts, amongst which the ominous High Hopes, an electrifying version of One of These Days, Run Like Hell with a hell of a lot of pyrotechnics, Breathe (from the masterpiece that is Dark Side of the Moon) and, of course, Comfortably Numb, before the proverbial curtain comes down.
The band is in fine form, and especially Gilmour seems to be having the time of his life here. It's good to see a motivated and stellar band working their way through these classics, and the atmosphere provided by the location only adds to the experience. Nothing beats a setting like Pompeii, and the visuals are spectacular throughout. The lighting is fantastic and, during Run Like Hell, so blindingly bright that the entire band is forced to wear sunglasses. It's a visual spectacle you would only expect from someone like Gilmour or Waters, and Live at Pompeii does not disappoint one iota in that respect.
Live at Pompeii is out on DVD, Blu-ray, LP and CD later this month, this is mandatory fare for the fans of Gilmour's solo stuff as well as the most casual of Pink Floyd fans.
---
[embedyt] https://www.youtube.com/watch?v=bXuc82dxFaA[/embedyt
[embedyt] https://www.youtube.com/watch?v=YrR9uiQzukQ[/embedyt]
[embedyt] https://www.youtube.com/watch?v=UwL3rpA-PFc[/embedyt]
[embedyt] https://www.youtube.com/watch?v=5pn9LQ_8IIg[/embedyt]
[embedyt] https://www.youtube.com/watch?v=kcx1FH4NVD4[/embedyt]
---
[embedyt] https://www.youtube.com/watch?v=TzWxRrSJDXQ[/embedyt]
[embedyt] https://www.youtube.com/watch?v=Xq32EyDzj6k[/embedyt]
---
[embedyt] https://www.youtube.com/watch?v=W-Is6k6LUBI[/embedyt]
[embedyt] https://www.youtube.com/watch?v=8vdJKyjzvPE[/embedyt]
---
[embedyt] https://www.youtube.com/watch?v=cXgjlFTB7BM[/embedyt]
---
[embedyt] https://www.youtube.com/watch?v=gRljcpVk6Ao[/embedyt]
[embedyt] https://www.youtube.com/watch?v=f-wW2PhfCy4[/embedyt]
---
[embedyt] https://www.youtube.com/watch?v=1ZaEMzJv7_w[/embedyt]
[embedyt] https://www.youtube.com/watch?v=x9V-bf8pVpQ[/embedyt]
[embedyt] https://www.youtube.com/watch?v=EWUA5iwyEv0[/embedyt]
---
[embedyt] https://www.youtube.com/watch?v=pm8gCDirjAQ[/embedyt]
[embedyt] https://www.youtube.com/watch?v=T-jeXcC0xNw[/embedyt]
---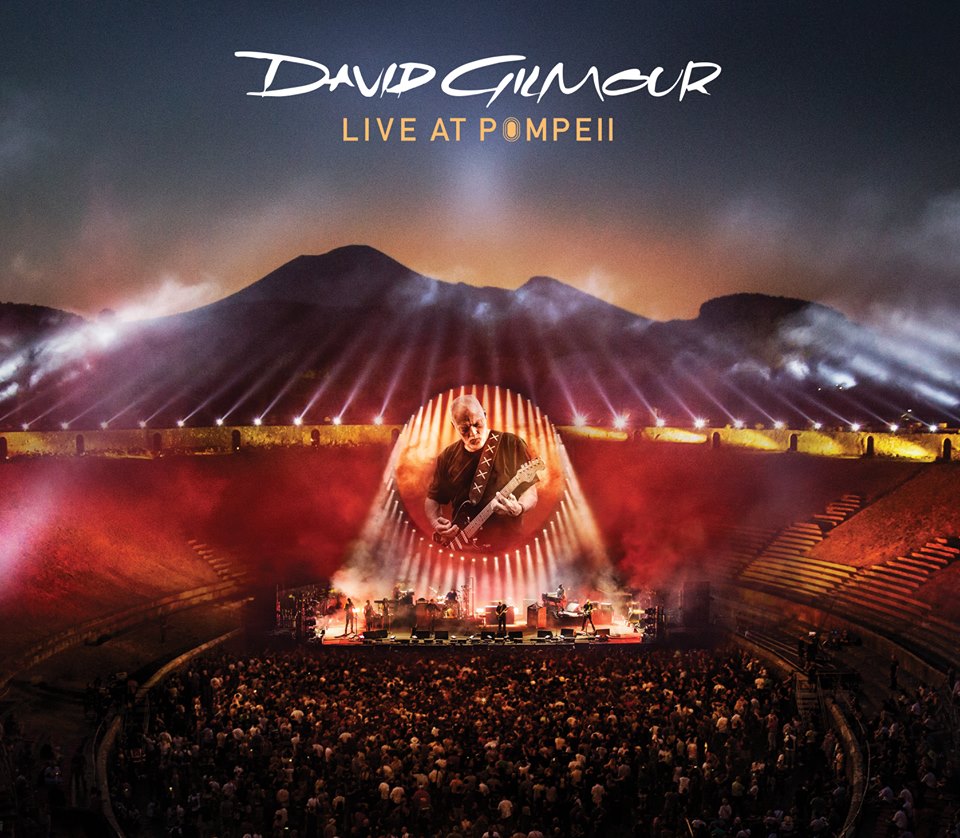 Only a select few fans were able to witness David Gilmour's ground-breaking return to the Pompeii amphitheatre for a brace of incredible performances in July 2016, but from 29th September every fan will be able to experience them, with the release of the recording of those concerts on CD, Blu-Ray, DVD, LP and download.
Released via Sony Music, Live at Pompeii will be available on 2-CD, Blu-ray, 2-DVD, 4-LP, deluxe Blu-ray box and download. The Blu-ray and DVDs include highlights from the concert performances of both shows, filmed in 4k by director Gavin Elder. The audio, available on CD and LP, was mixed by Andy Jackson and David Gilmour, assisted by Damon Iddins. The formats run to around 148 minutes each, with more than 2 additional hours of material included in the deluxe 4-disc Blu-ray / CD set.
The Pompeii concerts marked a return by David to the venue 45 years after Pink Floyd filmed in the legendary Roman Amphitheatre there, his two spectacular shows forming part of the year-long tour in support of the No.1 album Rattle That Lock. David's performances were the first-ever rock concerts for an audience in the stone Roman amphitheatre, and, for two nights only, the 2,600-strong crowd stood exactly where gladiators would have fought in the first century AD.
The stellar performances are complemented by an audio-visual spectacle, featuring lasers, pyrotechnics and a trademark huge circular screen, but paramount is the music; the show includes songs from throughout David's career, solo and with Pink Floyd, including One Of These Days, the only song that was also performed by the band there in 1971, and six songs from Rattle That Lock, as well as two from 2006's On An Island.
The release of Live At Pompeii will be preceded by a worldwide cinema screening of around 107 minutes – see www.DavidGilmourCinemaTickets.com for more details. Live At Pompeii showcases an artist at the top of his artistic game, performing incredible material with his world-class band, in a unique setting, on one very special occasion.
---
ALL FORMATS ARE NOW AVAILABLE TO PRE-ORDER ON AMAZON
We do not receive any funding at all, so donations are most welcome or you can support this site by using our sponsors links. This is especially true with Amazon, so if you wish to purchase ANYTHING from Amazon, please use our special links. USA | UK | CANADA Thanks!
Live At Pompeii Double CD

1. 5 A.M. (Live At Pompeii 2016)
2. Rattle That Lock (Live At Pompeii 2016)
3. Faces of Stone (Live At Pompeii 2016)
4. What Do You Want From Me (Live At Pompeii 2016)
5. The Blue (Live At Pompeii 2016)
6. The Great Gig in the Sky (Live At Pompeii 2016)
7. A Boat Lies Waiting (Live At Pompeii 2016)
8. Wish You Were Here (Live At Pompeii 2016)
9. Money (Live At Pompeii 2016)
10. In Any Tongue (Live At Pompeii 2016)
11. High Hopes (Live At Pompeii 2016)
12. One of These Days (Live At Pompeii 2016)
13. Shine On You Crazy Diamond (Pts. 1-5) (Live At Pompeii 2016)
14. Fat Old Sun (Live At Pompeii 2016)
15. Coming Back to Life (Live At Pompeii 2016)
16. On an Island (Live At Pompeii 2016)
17. Today (Live At Pompeii 2016)
18. Sorrow (Live At Pompeii 2016)
19. Run Like Hell (Live At Pompeii 2016)
20. Time / Breathe (In The Air) (reprise) (Live At Pompeii 2016)
21. Comfortably Numb (Live At Pompeii 2016)
1. 5 A.M. (Live At Pompeii 2016)
2. Rattle That Lock (Live At Pompeii 2016)
3. Faces of Stone (Live At Pompeii 2016)
4. What Do You Want From Me (Live At Pompeii 2016)
5. The Blue (Live At Pompeii 2016)
6. The Great Gig in the Sky (Live At Pompeii 2016)
7. A Boat Lies Waiting (Live At Pompeii 2016)
8. Wish You Were Here (Live At Pompeii 2016)
9. Money (Live At Pompeii 2016)
10. In Any Tongue (Live At Pompeii 2016)
11. High Hopes (Live At Pompeii 2016)
12. One of These Days (Live At Pompeii 2016)
13. Shine On You Crazy Diamond (Pts. 1-5) (Live At Pompeii 2016)
14. Fat Old Sun (Live At Pompeii 2016)
15. Coming Back to Life (Live At Pompeii 2016)
16. On an Island (Live At Pompeii 2016)
17. Today (Live At Pompeii 2016)
18. Sorrow (Live At Pompeii 2016)
19. Run Like Hell (Live At Pompeii 2016)
20. Time / Breathe (In The Air) (reprise) (Live At Pompeii 2016)
21. Comfortably Numb (Live At Pompeii 2016)

Live At Pompeii Blu-Ray

1. 5 A.M. (Live At Pompeii 2016)
2. Rattle That Lock (Live At Pompeii 2016)
3. Faces of Stone (Live At Pompeii 2016)
4. What Do You Want From Me (Live At Pompeii 2016)
5. The Blue (Live At Pompeii 2016)
6. The Great Gig in the Sky (Live At Pompeii 2016)
7. A Boat Lies Waiting (Live At Pompeii 2016)
8. Wish You Were Here (Live At Pompeii 2016)
9. Money (Live At Pompeii 2016)
10. In Any Tongue (Live At Pompeii 2016)
11. High Hopes (Live At Pompeii 2016)
12. One of These Days (Live At Pompeii 2016)
13. Shine On You Crazy Diamond (Pts. 1-5) (Live At Pompeii 2016)
14. Fat Old Sun (Live At Pompeii 2016)
15. Coming Back to Life (Live At Pompeii 2016)
16. On an Island (Live At Pompeii 2016)
17. Today (Live At Pompeii 2016)
18. Sorrow (Live At Pompeii 2016)
19. Run Like Hell (Live At Pompeii 2016)
20. Time / Breathe (In The Air) (reprise) (Live At Pompeii 2016)
21. Comfortably Numb (Live At Pompeii 2016)

Live At Pompeii 4 x LP

1. 5 A.M. (Live At Pompeii 2016)
2. Rattle That Lock (Live At Pompeii 2016)
3. Faces of Stone (Live At Pompeii 2016)
4. What Do You Want From Me (Live At Pompeii 2016)
5. The Blue (Live At Pompeii 2016)
6. The Great Gig in the Sky (Live At Pompeii 2016)
7. A Boat Lies Waiting (Live At Pompeii 2016)
8. Wish You Were Here (Live At Pompeii 2016)
9. Money (Live At Pompeii 2016)
10. In Any Tongue (Live At Pompeii 2016)
11. High Hopes (Live At Pompeii 2016)
12. One of These Days (Live At Pompeii 2016)
13. Shine On You Crazy Diamond (Pts. 1-5) (Live At Pompeii 2016)
14. Fat Old Sun (Live At Pompeii 2016)
15. Coming Back to Life (Live At Pompeii 2016)
16. On an Island (Live At Pompeii 2016)
17. Today (Live At Pompeii 2016)
18. Sorrow (Live At Pompeii 2016)
19. Run Like Hell (Live At Pompeii 2016)
20. Time / Breathe (In The Air) (reprise) (Live At Pompeii 2016)
21. Comfortably Numb (Live At Pompeii 2016)




Live At Pompeii Deluxe Edition

2x Audio CD

1. 5 A.M. (Live At Pompeii 2016)
2. Rattle That Lock (Live At Pompeii 2016)
3. Faces of Stone (Live At Pompeii 2016)
4. What Do You Want From Me (Live At Pompeii 2016)
5. The Blue (Live At Pompeii 2016)
6. The Great Gig in the Sky (Live At Pompeii 2016)
7. A Boat Lies Waiting (Live At Pompeii 2016)
8. Wish You Were Here (Live At Pompeii 2016)
9. Money (Live At Pompeii 2016)
10. In Any Tongue (Live At Pompeii 2016)
11. High Hopes (Live At Pompeii 2016)
12. One of These Days (Live At Pompeii 2016)
13. Shine On You Crazy Diamond (Pts. 1-5) (Live At Pompeii 2016)
14. Fat Old Sun (Live At Pompeii 2016)
15. Coming Back to Life (Live At Pompeii 2016)
16. On an Island (Live At Pompeii 2016)
17. Today (Live At Pompeii 2016)
18. Sorrow (Live At Pompeii 2016)
19. Run Like Hell (Live At Pompeii 2016)
20. Time / Breathe (In The Air) (reprise) (Live At Pompeii 2016)
21. Comfortably Numb (Live At Pompeii 2016)

1x Bluray Full Concert
1. 5 A.M. (Live At Pompeii 2016)
2. Rattle That Lock (Live At Pompeii 2016)
3. Faces of Stone (Live At Pompeii 2016)
4. What Do You Want From Me (Live At Pompeii 2016)
5. The Blue (Live At Pompeii 2016)
6. The Great Gig in the Sky (Live At Pompeii 2016)
7. A Boat Lies Waiting (Live At Pompeii 2016)
8. Wish You Were Here (Live At Pompeii 2016)
9. Money (Live At Pompeii 2016)
10. In Any Tongue (Live At Pompeii 2016)
11. High Hopes (Live At Pompeii 2016)
12. One of These Days (Live At Pompeii 2016)
13. Shine On You Crazy Diamond (Pts. 1-5) (Live At Pompeii 2016)
14. Fat Old Sun (Live At Pompeii 2016)
15. Coming Back to Life (Live At Pompeii 2016)
16. On an Island (Live At Pompeii 2016)
17. Today (Live At Pompeii 2016)
18. Sorrow (Live At Pompeii 2016)
19. Run Like Hell (Live At Pompeii 2016)
20. Time / Breathe (In The Air) (reprise) (Live At Pompeii 2016)
21. Comfortably Numb (Live At Pompeii 2016)
22. Pompeii Then And Now (DOCUMENTARY)

1x Bluray Bonus Footage
1. Astronomy Domine
2. Us And Them
3. Today
4. Time / Breathe (In The Air) (reprise)
5. Comfortably Numb (Jon Carin – vocal)
6. 5 A.M. (Wroclaw, June 2016 –with Orchestra)
7. Rattle That Lock (Wroclaw, June 2016– with Orchestra)
8. Dancing Right In Front Of Me (Wroclaw, June 2016 – with Orchestra)
9. The Girl In The Yellow Dress (Wroclaw, June 2016 – with Leszek Możdżer)
10. In Any Tongue (Wroclaw, June 2016 – with Orchestra)
11. Comfortably Numb (Benedict Cumberbatch ) (Royal Albert Hall 2016)
12. Gavin Elder – Europe 2015 (Documentaries)
13. Gavin Elder – South America 2015
14. Gavin Elder – North America 2016
15. Gavin Elder – Europe 2016
16. 'David Gilmour: Wider Horizons' (BBC documentary)