The PULSE DVD Launch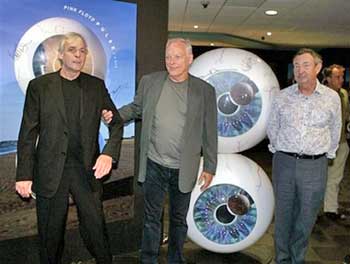 The long awaited PULSE DVD was launched by Pink Floyd at the Vue Cinema Leicester Square London on 3 July.
The event kicked off with a special screening of PULSE followed by a rare Questions & Answer session. In attendance of course were David Gilmour, Rick Wright and Nick Mason.
They were asked if watching one of their classic performances, and seeing how much they enjoyed it, had made them want to play live again. Rick Wright answered with a resounding "Yes."
David Gilmour stated "Well, you know, we've all been out. All four of the old group, the classic line up, if you want to call it that, have been out plying our trade this year and so we all are doing exactly that and it's been enormously great fun for myself. My plan is to just meander my own particular way for the time being."
Rick added, "And I guess my plan is to meander along. and whenever Dave wants me to play with him, I'm really happy to play with him. And [to David] You'll play with me right?"
David responded "Of course!" followed by Nick quipping "Of course, I'm available to everyone." (Which brought laughter & applause!)
The band also commented on their Live 8 show, and were asked if they felt the event had achieved its goals. David answered "Well, the performance was great and we had a wonderful time. One can only hope that it did some good; the jury's still out I think, but I'm sure it was better to have done it than to have not done it."
Nick said "I think it achieved certain elements of what was required," and added, "and I think, as far as I'm concerned, the most useful thing was that I think it moved the dialogue on from this idea that rock concerts, or charity rock concerts, are there in order simply to send food parcels".
"I think a lot of people after that at least started asking questions about the politics of world trade and I think that's enormously worthwhile and I also think, you know, we haven't finished. I think Bob Geldof is particularly exercised at the moment about ensuring that promises or undertakings…were made."
"If they haven't been met then, well, a fuss should be made. I expect we'll have to turn out in Hyde Park again in a few months time if they don't do something."
You can order the DVD at these links UK | USA
---
PULSE DVD Review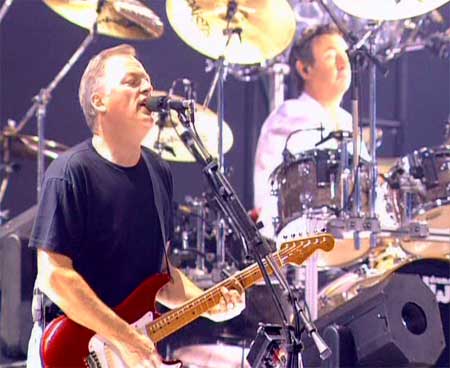 A voyage of discovery. With the 5.1 system cranked, DVD 1 was inserted and then the show began.
DVD 1 opens up with the enigmatic PULSE pupil/planet that is surrounded by another bunch of minor planets revolving around the central one. Then a small planet comes into view, and suddenly the ground vibrates, as the haunting and eerie Floydian soundscape erupts.
Easy to navigate menus, with the main options being
Concert (Part 1)
Audio Setup
Features
Song Selection
All sub menus have soundscape tracks, and individual graphic effects.
To start off, we decided to select the Concert (Part 1) option and sat back to watch. Within seconds we were enveloped by the sound, and transported back to that magnificent show at Earls Court on 20 October 1994. The sound is simply amazing. Where were those voices coming from?. Look out, duck, here comes a plane! The surround sound is certainly the most incredible you are ever likely to hear. James Guthrie has outdone himself here, with every note clear & resonant. This is the cutting edge, outstanding, brilliant and oh so good.
Getting to the end of the concert Part 1 presents a challenge. Do you go for part 2? (Which is on the second disc and means getting up to change it) or do you continue to explore DVD 1? Being lazy, it was an easy choice.
Next we checked out the Audio Setup
Dolby Digital 5.1 / 448 kbps
Dolby Digital 5.1 / 640 kbps
Stereo
System Setup.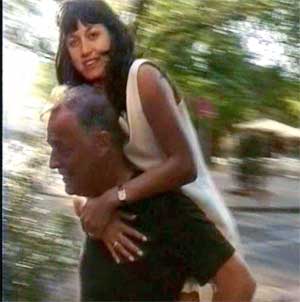 Deciding we would like to sample some of the Features next, we were offered the following menu..
Bootlegging The Bootleggers
Screen Films
Videos
Tour Stuff
PULSE TV Ad
We started at the top, and went for Bootlegging The Bootleggers. This brought up the following bootleg videos.
What Do You Want From Me
On The Turning Away
Poles Apart
Marooned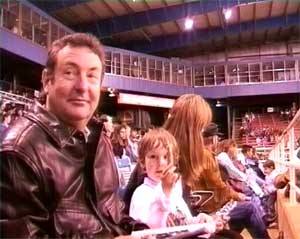 What Do You Want From Me was filmed from somewhere up the back, and the distance shots are a bit blurred. Somebody's hand was also a bit shaky, but some really nice close up shots, and excellent sound.
On The Turning Away . Once again filmed from some way back. Shaky was here again. Reasonable sound.
Poles Apart. Filmed a bit closer to the stage, but slightly right. Not too shaky!
Marooned. Perhaps the worst quality of the bootlegs, but the best emotionally! Very touching crowd scenes, as tears are shed, as Whales are projected. (Oslo – Norway show August 29 & 30 1994).
(Great to see credits for the archive material go to our good friend Vernon Fitch)
Conclusion. Nice to have this stuff, and in excellent quality. But when you compare it to the official footage it's not in the same league. (Even though James Guthrie has cleaned up the sound on each of these videos).
Next we explored the Screen Films.
Shine On You Crazy Diamond
Learning To Fly (1987)
High Hopes
A great little collection of films that Pink Floyd have used on tour. Beautiful quality.
Then there are a couple of promotional videos.
Learning To Fly
Take It Back
A really nice pair!
Here's a list of the Tour Stuff.
Maps
Itinerary
Stage Plans
Static displays. For hardcore fans we suspect. You can zoom in on the maps and see where Pink Floyd played!
End of Disc 1!
DVD 2
'Suspended Man' floats into view. Very Floydian background, with tolling bell. Menu appears and offers.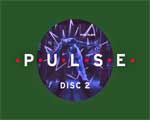 Concert Part 2
Audio Setup
Features
Song Selection
Once again the Concert selection won out. See Concert Part 1 to read how absolutely wonderful this concert is.
It has been some time since we last viewed the PULSE Video, so have not done any comparisons as to screen shots etc. (But the sound was never as good as this!)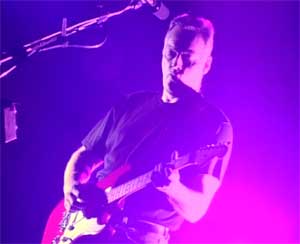 The Audio Setup & Song Selection items are the same as Disc 1, so we won't dwell on that, but we will delve into Features. Lots of things to explore here.
Screen Films
Say Goodbye To Life As We Know It
Photo Gallery
Wish You Were Here with Billy Corgan
Cover Art
Additional Credits
Looking at Screen Films we find lots more stuff here.
Speak To Me (Graphic)
On The Run
Time (1994)
The Great Gig In The Sky (Wave)
Money (1987)
Us & Them (1987)
Brain Damage
Eclipse
Alternate Versions
Another great collection of videos used by the Floyd on tour. But hang on, what's this little item called Alternate Versions?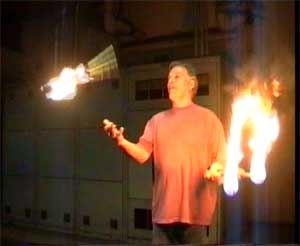 Excellent! What a great find. A fantastic little collection of films, many seldom seen! Here's the list.
Speak To Me (1987)
Time (Ian Eames)
The Great Gig In The Sky (Animation)
Money (Alien)
Us & Them (1984)
These are great. Still exploring, as this is a rare treat.
Next the documentary Say Goodbye To Life As We Know It.
Oh my goodness. Now this is something different. A 15 minute montage of video footage of the tour. This is all backstage material, with some of the crew in search of beer, a study of urinals, David Gilmour juggling flaming bowling pins? People stuffing food into their mouths, and much dancing. This really is fascinating. Don't know whose idea this was, but this footage alone is worth the cost of the DVD.
Photo Gallery.
A large collection of still from the tour.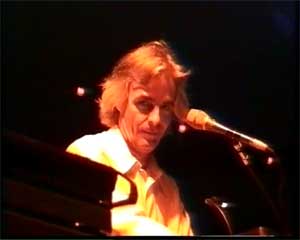 Wish You Were Here with Billy Corgan
Billy does tend to prattle on a bit at this Hall Of Fame induction. Acoustic version of Wish You Were Here.
Cover Art
A collection of album covers.
Additional Credits
Cast & crew.
That's a quick run through on this incredible DVD. Pink Floyd have said that they want this DVD to set the standards, and they have certainly have done that
Highlights for us, were the concert footage (of course!) With such amazing sound, this just cannot be beat. We also loved the documentary Say Goodbye To Life As We Know It, which opens up a whole new world.
The addition of the alternate versions of some screen films is also very welcome.
We know we are biased, but really, this DVD is quite exceptional. Not a dull minute on it, and the sound has to be heard to be believed.
Don't hesitate to get this, you will be getting quite simply the best DVD ever produced.
---
TECHNICAL REVIEW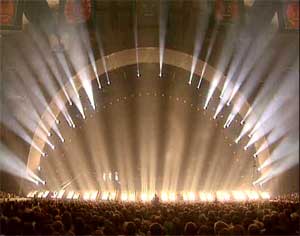 Pink Floyd Pulse
Technical Specifications.
North American release: NTSC
2 x DVD-9 (Dual Layer)
Disc one data: 6.9 GB
Disc two data: 7.86 GB
Authored with Sonic Scenarist 3.1
Region coding: ALL regions
Video Format: 4:3 NTSC 1.33:1
Bitrate: 8.5 Mbps (nominal)
Jacket Pictures: none
Available audio streams:
1) Dolby Digital 5.1 Surround (448 kbps) Default track
2) Dolby Digital 5.1 Surround (640 kbps)
3) Dolby Digital 2.0 Stereo (448 kbps)
Subtitles: none
It's clear that substantial work has gone into the video and audio preparation of the
DVD version of Pink Floyd's Pulse. Although the image still shows its video, (as opposed to film), origins; the overall quality is good.
Video noise is slight, but varies from scene to scene, with some portions of the concert appearing 'noiser' than others. Colour appears to be accurate, with very little bleeding. Detail is average to good. I made comparisons with the old Pioneer Laserdisc release, and the difference is substantial.
For the first time I could see all kinds of visual information that is absent from the Laserdisc release.
As for the audio? Well…in a word, spectacular. This is the first concert DVD I've come across that accurately replicates the sound and feel of being at a live performance. The weight and power of the bass/drums is breathtaking. This, combined with a sense of air and space, creates an enormous and enveloping soundstage. By the way, the user is free to change between the three available audio streams on-the-fly.
The 640 kbps track is the way to go, (if your system supports this bitrate). However, the 448 kbps 5.1 Surround track is no slouch either. The 640 kbps track is just that much richer, fuller sounding. The 448 kbps 2.0 stereo track is very good too, but I much prefer the 5.1 Surround mixes.
Whether the 5.1 mixes are an accurate replication of what the audiences experienced at Earls Court, I do not know. However, the use of the surround channels to feed crowd sounds, and more importantly, elements of the music being performed, is extremely effective. Many of the prerecorded elements of the songs are gently filtered through the surrounds, and on numerous occasions instruments pan from front to back, left to right surround. All of this is achieved without sounding in any way gimmicky.
The new edit of the concert is a great improvement too. Cuts are now slightly more frequent and many new camera angles have been introduced. All in all, a much more involving visual presentation compared to the old Laserdisc/VHS releases.
Final thoughts. The only thing that could improve upon this release is an HD-DVD or Blu-Ray disc release, with both formats superior audio and video properties. Given that the title is handled in most territories by Sony, a Blu-Ray release seems likely sometime in the future.
Technical review thanks to Peter Calcroft
---
History behind the release
On 18 September 2006, Pink Floyd will release their much anticipated DVD, PULSE, on EMI Records. (PULSE DVD release date brought forward. Pink Floyd's Management have confirmed that the release date has now been brought forward to July 10th UK and July 11th USA. ) The release date has been delayed until September to include technical additions and modifications. This landmark release, captures the last Pink Floyd Division Bell tour in 1994, and was filmed at London's Earls Court during their recordbreaking 14 night residency. The two disc release contains the full concert performance with rare backstage footage and previously unseen extras.
There are many elements that make this Pulse release a must-have, but top of the list is that here, for the first time ever, is a live filmed performance of Pink Floyd's towering, seminal album, The Dark Side of the Moon. The album in its glorious entirety is performed by David Gilmour, Nick Mason and Rick Wright during the second half of the concert and appears on disc 2. Shine on You Crazy Diamond, Another Brick in the Wall (Part 2), High Hopes and Learning to Fly are some of the classic tracks on disc 1 with never before seen rarities such as Bootlegging the Bootleggers and behind the scenes footage showing a snapshot of life on the road with one of the world's biggest rock bands.
The stunning Pulse DVD graphics are designed by longtime Pink Floyd collaborator, Storm Thorgersen who has made the DVD look as good as it sounds. It is mixed in mind expanding 5.1 surround sound and digitally remastered by James Guthrie. The DVD includes some of The Dark Side of the Moon original screen films used in the 1970's concerts which were never filmed, as well others remade for the 1994 tour.
The Pulse DVD vividly captures the essence of Pink Floyd, both as a live band and as a visual tour de force, qualities that were both well to the fore at their show-stopping appearance at this year's Live 8.
Running Time Over 4 hours
Technical Details Speaker ID, Pink Noise inc 'Audio Setup' Dolby Digital 5.1. Stereo
DISC 1
Concert Part 1:
Shine On You Crazy Diamond
Learning To Fly
High Hopes
Take It Back
Coming Back To Life
Sorrow
Keep Talking
Another Brick In The Wall (Part 2)
One of These Days
Screen Films:
Shine On You Crazy Diamond
High Hopes
Learning to Fly
Bootlegging the Bootleggers:
What Do You Want From Me
On The Turning Way
Poles Apart
Marooned
Videos:
Learning To Fly
Take It Back
Tour Stuff:
Maps, Itinerary, Stage Plans
Pulse TV Advert
DISC 2
Concert Part 2:
Speak To Me
Breathe In The Air
On The Run
Time
The Great Gig In The Sky
Money
Us And Them
Any Colour You Like
Brain Damage
Eclipse
Wish You Were Here
Comfortably Numb
Run Like Hell
Screen Films:
Speak To Me (graphic)
On The Run
Time 1994
The Great Gig in the Sky (wave)
Money 1987
Us And Them 1987
Brain Damage
Eclipse
Alternate Screen Versions:
Speak To Me 1987
Time (Ian Eames)
The Great Gig In The Sky (animation)
Money (Alien)
Us And Them 1994
Behind the Scenes Footage:
Say Goodbye To Life As We Know It
Photo Gallery
The Rock and Rock Hall of Fame Induction Ceremony (U.S. 1996)
Wish You Were Here with Billy Corgan
Cover Art
EMI Records Catalogue Number 491 4369
Barcode Number 07243 4 91436 9 2 †
ORDER HERE .UK Edition | USA Edition
18 Jan 2006 We have been advising you for some weeks now that there is no longer an official date for the release of the PULSE DVD. Sadly, there is still no good news, and now David Gilmour's OFFICIAL BLOG has also confirmed that a release date is unknown to them. We will keep a close eye on this, and of course you will read all the info here as soon as it is known. In the meantime, you can still order the DVD from these special links. UK Edition | USA Edition Please also note that the date of 2010 on amazon.com (US) is a default date they use when an official date is not known to them.
Pulse DVD. As we have been advising for some time now, there has been much confusion as to when this DVD is finally going to get it's release. It's been decided that we are no longer going to advertise release dates on this site until there is OFFICIAL confirmation of the date. We hope by doing this, that at least WE will not be adding to the confusion. In the meantime, you can still order the DVD from these special links.UK Edition | USA Edition
CD WOW are advising their customers as follows: This title has been taken off the release schedule by EMI, and they have supplied us with no new data. This title will still be released, however it could be released as late as April 2006, unfortunately the decision is not with CD WOW but with the record company.
10 Dec. Pulse DVD. There has been much confusion as to when this DVD is finally going to get it's release. You will recall a few days ago we advised that the German language Pulse & Spirit web site were reporting that the release date has now been delayed to a date unknown, but thought to be aometime in 2006! It was reported that the source was EMI, and as Pulse & Spirit is a highly regarded source, we have no reason to doubt that. Various online outlets are advising on a variety of dates, with some still claiming 5 December, but as that date has now passed, we figure they were wrong! We have decided that we are no longer going to advertise release dates on this site until we have OFFICIAL confirmation of the date. We hope by doing this, that at least WE will not be adding to the confusion. In the meantime, you can still order the DVD from these special links.UK Edition | USAEdition
4 Dec 05. PULSE DVD Indefinite Delay? Our friends over at the German language Pulse & Spirit web site are reporting that the PULSE DVD has now been put on hold, apparently to a date unknown, sometime in 2006. The Pulse & Spirit source is reported to be EMI, who, it is said, have advised distributors of the delay. At this time we are unable to confirm the story, but Pulse & Spirit has a reputation for good solid information. Naturally if we find out more we will let you know.
On No! Not Again!!!! Just when you thought that you would have the PULSE DVD in time for Christmas, comes the news of yet another delay! We guess after all the years waiting we shouldn't be surprised, but this is starting to get ridiculous. The new date is now a wordwide release date of 16 January 2006, although we wouldn't be surprised if that date slipped once again. Please NO emails, we are as disappointed as you probably are. You can order through these special links UK Edition | USAEdition 
More Delays – 20 July 2005
Whilst in London on 12 July, Col had a meeting with Pink Floyd's Manager.
High on the list of items to discuss, was the release date of the PULSE DVD.
Sadly, it is not good news. It seems that a background documentary that is to be included on the DVD needs 'more work'.
Pink Floyd themselves, and their Manager, are aware of the huge anticipation surrounding the DVD, and they are as disappointed as we all are, that this is not yet ready for release.
However, they want this to be the best DVD ever, and are therefore taking incredible steps to ensure that everything is 100% perfect.
The earliest we are likely to see the DVD is LATE 2005, but be prepared for more slippage, as it could even roll around into 2006.
Col was also told that the release of the Live 8 DVD had absolutely no bearing on the release date for PULSE.
In older news, we were advised that the band were also said to be considering doing yet a further mix of the PULSE CD with ADDITIONAL songs. We tend to think it's doubtful that these are new songs. It's possible (but not confirmed) that One Of These Days and the preshow ambient soundtrack that were on the cassette version, may be the additional material.
It's thought that David Gilmour finished working on the DVD late in 2003 and handed it over to James Guthrie to weave his magic. There has been a lot of misinformation about this release, and we can advise you that any copies of PULSE in DVD format that are currently on sale are BOOTLEGS. (Generally just a straight rip off the video/laser disc on to DVD).
Nick Mason said in late June 2004 "we've been putting it into DVD format which is, I have to say, stunning – the quality is just SO much better, and of course then it comes then with 5.1 sound which is also terrific. That was intended to be out last Christmas but I think we ARE going to get it out this year." He also reconfirmed this in October 2004.
Nick Mason confirmed in an interview in San Francisco on 14 April that work still continues on the DVD. He said the band are 'trying to finish' (the DVD) Nick said the show had been 'recut, which obviously gives us more length' & 'the sound has been mixed into 5.1 and were obviously looking for additional elements to put into the DVD' 18 April.