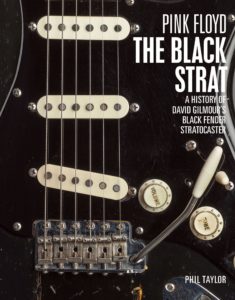 Phil Taylor, guitar technician to David Gilmour for some 45 years, has released an updated Fourth Edition of his book 'The Black Strat: A History Of David Gilmour's Black Fender Stratocaster'
"After 49 years of ownership, The Black Strat, David Gilmour's iconic black Fender Stratocaster, was auctioned for charity at Christie's New York in June 2019, along with 124 more of his instruments. The auction raised an incredible sum for David's chosen charity, ClientEarth, an environmental law charity, with The Black Strat guitar itself becoming the world's most expensive guitar. The fourth edition of Phil Taylor's heavily illustrated book encapsulates the entire history of the instrument, from it's origins through to just before the recent auction and is available now, exclusively from Amazon."
The book is a fantastic deep dive in to the history of the famous instrument. It's full to the brim with technical details, stories from the studio and on the road, as well as plenty of photographs.
Having been out of print for some time now, it's great to see the updated book available once again.
Head over to the official website for more information or straight to Amazon to order your own copy!