Roger Waters and Nick Mason made a rare public appearance together today at London's Mayfair Hotel at a media briefing and Q&A session for The Pink Floyd Exhibition: Their Mortal Remains, due to open in May at London's V&A museum.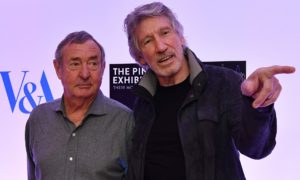 Hosted by DJ Matt Everitt, the event started with a short description of the exhibition by co-curator Victoria Broackes, outlining the attention to detail that has gone into every aspect.
This was followed by a Question & Answer session with Matt and Pink Floyd's Creative Director Aubrey 'Po' Powell of Hipgnosis, alongside Ray Winkler, CEO of the exhibition's designers Stufish. Po spoke evocatively and warmly of his personal history with the members of Pink Floyd, and with Syd Barrett in particular, providing a creative and cultural overview of the ups, downs and importance of Pink Floyd's career, while Ray Winkler touched on the design and architectural elements of Pink Floyd's live staging.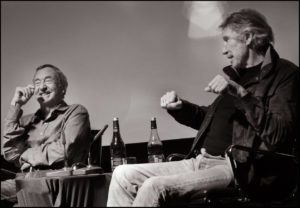 Daniel Sennheiser, CEO of audio electronics company Sennheiser, then talked about the company's involvement with Pink Floyd from their earliest years, and their shared commitment to audio excellence, which will manifest itself in 360-degree audio mixes played in a portion of the exhibition, as well as the headphone technology used to provide aural accompaniment to the exhibits.
Finally, Roger and Nick took to the stage to answer questions from Matt Everitt and some media in the audience. With thoughtful, and occasionally hilarious, answers, they covered topics such as playing specific concerts and Roger's forthcoming album, to be entitled 'Is This The Life We Really Want?', while Nick admitted that he was probably the member of Pink Floyd most likely to have kept photos and memorabilia.
Both of them professed their admiration for the V&A curation team in unearthing interesting and meaningful objects, whether historic personal letters from the band or the actual cane used to beat Roger at Cambridgeshire High School For Boys, accompanied by the school's 'Punishment Book' listing the beatings.
They both looked forward to viewing the exhibition in person, including passing through the entrance, a special reconstruction of the band's Bedford CA van, into a world of Pink Floyd history, starting with psychedelia and progressing to the ambitious stagings of the later years.
The Pink Floyd Exhibition: Their Mortal Remains, presented by the V&A and Michael Cohl's Iconic Entertainment Studios, runs from the 13th May till the 1st October 2017.
Tickets are on sale now: in person at the V&A; online at vam.ac.uk/pink-floyd or by calling (In the UK ) 0800 912 6961 (booking fee applies); or from ticketing partners Ticketmaster, LOVETheatre, See Tickets and Encore
www.pinkfloydexhibition.com | vam.ac.uk/pink-floyd | #TheirMortalRemains