Mick Fleetwood And Friends - Official Trailer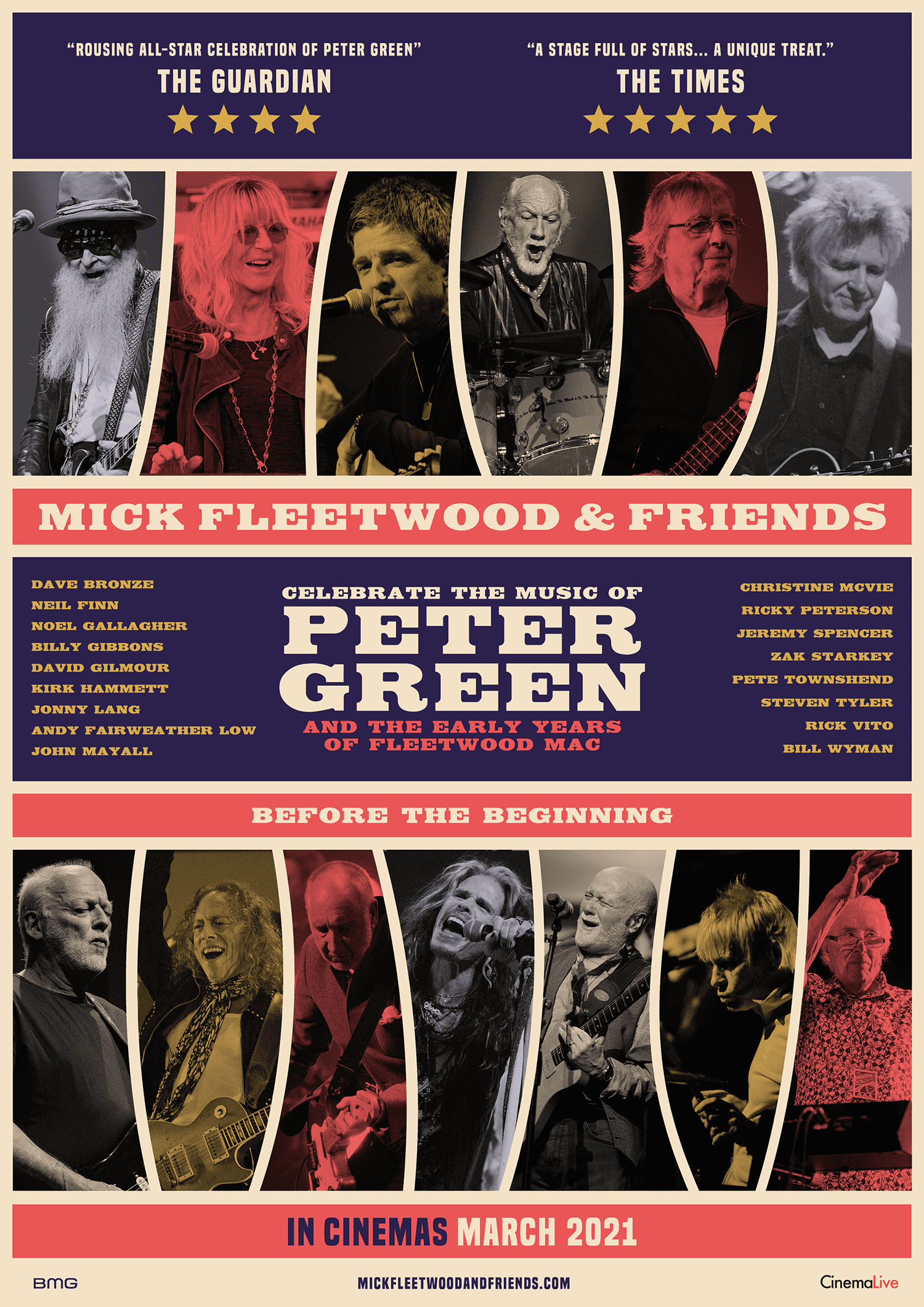 This year's Mick Fleetwood & Friends concert in honour of Peter Green will now be shown at UK cinemas in spring 2021.
Held on Tuesday 25th February 2020 at the London Palladium – just a few weeks before the coronavirus pandemic stopped the live music industry – the unique one-off Mick Fleetwood & Friends Celebrate The Music Of Peter Green and The Early Years of Fleetwood Mac concert featured some of the biggest names in rock music and beyond.
Mick personally invited Billy Gibbons (ZZ Top), David Gilmour (Pink Floyd), Kirk Hammett (Metallica), Jonny Lang, John Mayall, Christine McVie (Fleetwood Mac), Zak Starkey, Jeremy Spencer (Fleetwood Mac), Pete Townshend (The Who), Steven Tyler (Aerosmith), Rick Vito (Fleetwood Mac), Bill Wyman (The Rolling Stones), Neil Finn (Crowded House) and Noel Gallagher (Oasis) to perform classic Peter Green and early Fleetwood Mac songs on the night.
The house band featured Mick Fleetwood along with Andy Fairweather Low, Dave Bronze, and Ricky Peterson, and seminal tracks in the jaw-dropping setlist included 'Albatross', 'The Green Manalishi (With the Two Prong Crown)', 'Need Your Love', 'Oh Well, Part I and Part 2', 'Rattlesnake Shake' and set closer 'Shake You Moneymaker'.
The concert, of course, now takes on extra gravitas following the sad death of Peter Green in July 2020 aged 73.
Mick Fleetwood & Friends cinema release date:
In March it was announced that Mick Fleetwood & Friends would hit UK cinemas in June 2020, however these screening dates were understandably thwarted by Covid-19.
It's now been confirmed that the concert will be available to watch in its glorious entirety at cinemas across the country on Tuesday 23rd and Sunday 28th March 2021. Distributed by Cinema Live, further details will be released in the new year.
Looking back on the one-off show, Mick Fleetwood said: "The concert was a celebration of those early blues days where we all began, and it's important to recognize the profound impact Peter and the early Fleetwood Mac had on the world of music.
"Peter was my greatest mentor and it gave me such joy to pay tribute to his incredible talent. I was honoured to be sharing the stage with some of the many artists Peter has inspired over the years and who share my great respect for this remarkable musician. 'Then Play On'…"
Mick Fleetwood & Friends live album and concert film:
Following the cinema screening, Mick Fleetwood & Friends will be released as a live album and concert film on Friday 30th April 2021.
Mick Fleetwood & Friends Celebrate The Music Of Peter Green And The Early Years Of Fleetwood Mac is available to buy on Gatefold 4LP, 2CD/Blu-Ray mediabook and Digital audio formats, while there's also a a deluxe 44 page hardbound bookpack, which includes :
Sleevenotes by Anthony Bozza in conjunction with Mick Fleetwood.
Event photos and quotes from each artist who appeared on the night.
Extensive photographs of the concert, rehearsals and behind the scenes.
Blu-Ray of the concert film and the full recording on double CD and quadruple vinyl.


---

Pre-order Now! Amazon UK Blu-ray & 2CD | Amazon UK 4 LP  ***** Amazon USA Blu-ray & 2 CD | Amazon USA 4 LP