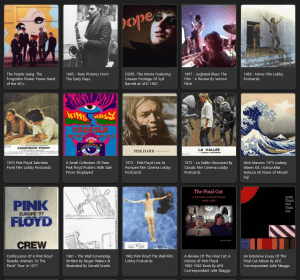 As part of our ongoing master plan to bring you the most comprehensive community covering all things Pink Floyd and Solo.
We have been hard at work behind the scenes re-developing many aspects of our site to bring you even more content using the most up-to-date immersive technology to be able to showcase many exhibits digitally in the same format as they were originally created.
Having had an overwhelming response to our Tour Book Exhibition earlier this year, we have given the Fun & Fantasy and Other Exhibitions section a complete re-design.
Fun & Fantasy
Albert Magoolie – Albert has been in contact, he has been writing his long anticipated memoirs and has refined some of his story which was originally published back in 1998.
Wallpapers – A Selection of A Fleeting Glimpse wallpapers for your device completely free for you to download.
Comic Books – A selection of the rarest of Pink Floyd edition comic books have been digitally recreated for your viewing pleasure.
Other Exhibits.
Cinema Lobby Cards – A Selection of Pink Floyd related postcards that were available from Cinemas worldwide for the release of film material dating from 1969 to 1972
Katsushika Hokusa 36 Views of Mount Fuji – A Comprehensive collection of the images that have inspired Nick Masons legendary 1973 Ludwig "Wave" Drum kit.
Storm Thorgeson's Taken By Storm Tour Rooms – Featuring some new promotional material surrounding Storm's touring exhibition.
And many more new additions, we hope you will join us in exploring our modern layout, which has been developed to make things easier for you to navigate through.