I want you to cast your memory back to the year 2006, This was the year that David Gilmour released his Platinum album On An Island. Gilmour toured the album with Richard Wright, Phil Manzanera and long-time members of the live Pink Floyd band, Guy Pratt and Jon Carin. California based musician Steve DiStanislao was brought in as drummer. The shows included the entire On an Island album plus a selection of songs from the extensive Pink Floyd back catalogue.The tour is documented on the DVD/Blu-ray Remember That Night and the live album & DVD Live in Gdansk.
During this tour one of our regular forum members and a very well known glass maker in Scotland, Mr Ian Pearson has a very interesting story to tell.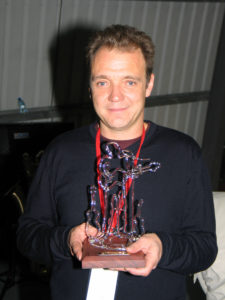 "Time may indeed wait for no man but if you are "Glassman" then time can stand still. I have mixed emotions remembering 2006 and my involvement in creating a glass image of David Maciiwaines symbolic "Wireman", featured throughout the "On an Island" promotion material. For it was in 2005 that my wife of thirty years died and I desperately needed to drown myself in a purpose to avoid my brain cells bouncing out of my head and shooting off to another planet. Hence I discovered David's Blog and Fed who I wasn't sure was real but all members seemed to communicate through him or her in a most interactive manner.
I am a glass artist with my own studio on the far North coast of Scotland with a reputation of being able to make anything so when I was asked could I do something in glass for Fed then for sure I could. I work glass rod and tubing in the flame so it seemed obvious to me that I could do a glass version of "Wireman". It is about 12 inches high, mounted on a wooden base with a suitably engraved brass plate and took about twenty hours to complete.
As always making glass sculptures isn't the whole picture as one has to make sure the finished work gets to the correct destination and person on time and without damage. So knowing I had tickets to see David at Glasgow in the Clyde Auditorium or "Armadillo" as it is known, that seemed the most appropriate opportunity to handover my glass offering. The fact that this did involve a 300 mile train journey cuddling my glass for the whole 7 hours didn't put me off. In fact that seemed almost pleasant compared to the several hours wait outside the stage door waiting to be allowed in to hand the glass over.
Fame is always subjective and we all are famous for something to someone. Every two years I meet HRH Prince Charles in my capacity as Chairman of a local arts society, he is certainly very recognisable to many but I don't equate the word "fame" with good nor bad. It's just a word. I am well known in several glass circles and I believe David Gilmour is not unknown in the guitar playing world. Neither of us are more famous than the other so when I arrived at the Auditorium I naturally thought the door would be opened for me and I be given a warm welcome. Sadly that was not to be and I struggled to get through the autograph groupies. After knocking on the door which was opened a few times by security staff during a couple of hours, Polly Sampson appeared and asked me to open the box. I hadn't realised it at the time but trying to explain what I had in the box without extracting the object seemed hard work. It was obvious that I had to show the "Glassman" to Polly who then let me in.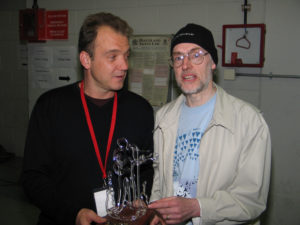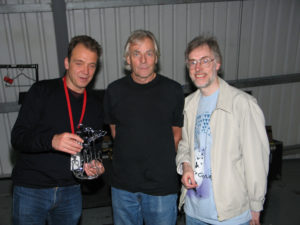 Joining me on my journey was a friend Bob who presents on my local radio a risk show where at 11 pm every Thursday Floyd or Floyd related music is played. I am known as "Planet Floyd" and hence I used Bob to take photos when handing over the glass. Trouble is who to hand it over to? I was backstage and it seemed many people rushing around to distract from my conversation with Polly. Guy Pratt appeared and we spoke on the intricate of stress relieving glass to avoid cracking. I knew Guy was trying to give up smoking so I had sealed a cigarette in a glass tube and engraved the message "In Emergency Break Glass" on it. He found this amusing which was the aim of the piece. We continued chatting then rick Wright appeared and join us for a photo shoot. He seemed more serious than the others. Marc Brickman came over to see what the fuss was all about and (I think) admired my glass. I wasn't really disappointed in not meeting up with David as my focus was on ensuring Guy would take good care of the "Glassman", which apparently he did.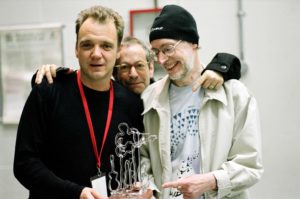 After about half an hour or so we were shown to the door and exited the Auditorium. There were still many seeking autographs outside and a few of them asked me if I had got David's and others but of course I hadn't. I didn't even bother to ask, they never asked for my autograph!
It was pleasing to note that a photograph of "Glassman" appeared on the cover of the DVD "Remember that Night".
I feel slightly guilty that "Glassman" was not based on an original idea but I console myself in that the techniques I perfected during the creation were and continue to be used on other sculptures. Not too long after my Glasgow (should that be Glassglow?) I created a piece for Billy Idol and others who would rather not be named!"
We would like to send a very large token of thanks to Ian Pearson for taking the time to write this article and for allowing us to share images with you.