Tonite Let's All Make Love In London Blu-ray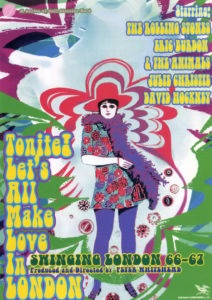 British label Network Releasing will bring to Blu-ray Peter Whitehead 's 1967 semi-documentary entitled "Tonite Let's All Make Love In London" about the "swinging London" scene of the sixties. The film consists of a series of psychedelic performances and interviews and features live performance by Pink Floyd, together with footage of John Lennon, Yoko Ono, Mick Jagger, Vanessa Redgrave, Lee Marvin, Julie Christie, Allen Ginsberg, Eric Burdon, Michael Caine and many others attending one of the band's concerts
The release will be available for purchase on May 1st.
Synopsis: Featured here as a brand new restoration, Peter Whitehead's celebrated film probes the myth and the reality of "Swinging London" presenting an intimate, impressionistic collage of rare concert and studio performances, interviews with key figures from the worlds of music, art and cinema, and images of Sixties counterculture.
John Lennon, Yoko Ono, Mick Jagger, Vanessa Redgrave, Lee Marvin, Julie Christie, Allen Ginsberg, Edna O'Brien, David Hockney and Michael Caine are among those captured on film and in sound; bookended by a performance of Pink Floyd's Interstellar Overdrive, the soundtrack features songs by the Rolling Stones and Eric Burdon. Made when many young people saw politicised hedonism as the logical response to global uncertainty, Whitehead's "Pop Concerto for Film" taps into both the confidence and the confusion of an iconic moment in time.
Thanks go to forum member AphroditeMF for the heads up.