On 5 February 2002 this site gave you the exclusive news that there would be a new 'Best Of Roger Waters' album coming out in April. Well many thought that we were joking but we weren't! Now here it is, official!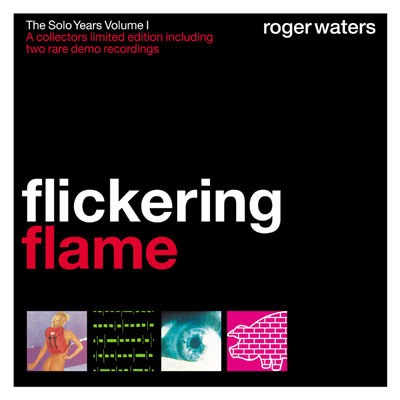 Release details:
Asia/Australia 1 April 2002
Europe & South America 29 April 2002
Roger Waters : Flickering Flame – The Solo Years Volume 1
1) Knockin' on Heaven's Door
2) Too Much Rope
3) The Tide is Turning
4) Perfect Sense Part I & II
5) Three Wishes
6) 5:06am (Every Stranger's Eyes)
7) Who Needs Information
8) Each Small Candle
9) Flickering Flame (new demo)
10) Towers of Faith
11) Radio Waves
12) Lost Boys Calling (original demo)
History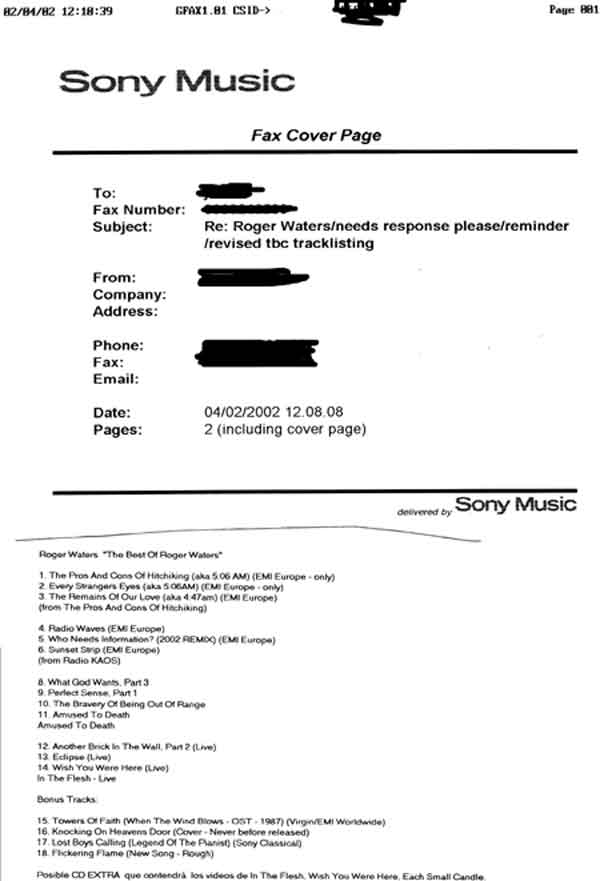 This is a picture of a fax dated 4 February 2002 from Sony Spain. It indicates that Roger Waters is about to give us a new album! However it's not yet clear if this is a worldwide release or just for Spain. We're also told that the date of release will be 15 April 2002. (Release delayed until 29 April 2002)
The fax was sent to a good friend of this site and we believe it to be genuine as the fax & phone numbers (deleted by us) check out.
---
Spanish promotional material.
We are of the opinion that the version of Flickering Flame that is going to be on 'The Best Of Roger Waters' is going to be 'lifted' from Roger's In The Flesh DVD and that is why it is classed as 'rough' (see above fax).
Update 20 February. It has been confirmed by reliable sources that this album is going to be a worldwide release. ~ Release date unknown at this stage.