Live at Pompeii September 1972 Original Film. 1974 VHS. 2003 Directors Cut DVD.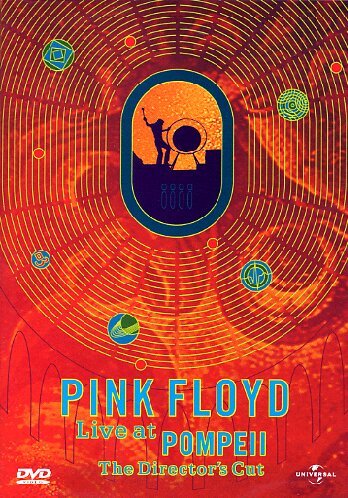 Contains the legendary live concert (without an audience) in its entirety filmed live in the ampitheater at Pompeii, Italy plus a much longer DIRECTOR'S CUT version which includes the concert, footage of the recording of "Dark Side Of The Moon" in the studio, and new material of the band talking in the studio.
The Director's Cut was conceived and compiled by the director, Adrian Maben. The artwork and the concept for the DVD is by long time Pink Floyd artists Storm Thorgerson.
TRACKS: Pompeii | Intro, Echoes, part one, (interviews), On the Run (studio), Careful With That Axe, Eugene, A Saucerful Of Secrets (interviews), Us And Them (studio), One Of These Days…, Set The Controls For The Heart Of The Sun, (interviews), Brain Damage (studio), Mademoiselle Nobs, Echoes, part two
DVD SPECIAL FEATURES: interview with Adrian Maben, original concert film, photo gallery, odd's n sod's, album graphics, Pompeii map & history, lyrics.