Roger Waters : Interview With Entertainment Weekly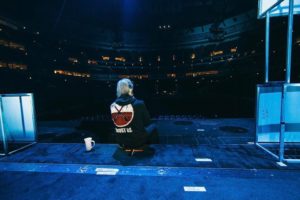 Roger Waters has a reputation for being someone who keeps a tight rein over every aspect of the recording process. But the singer, bassist, and former Pink Floyd member says he allowed producer Nigel Godrich (Radiohead, Paul McCartney) a surprisingly free hand when overseeing his new album, Is This the Life We Really Want?, which arrives June 2.
"I was used to being in control of everything and doing it all," he tells EW. "I realized, watching Nigel work, that it wasn't going to work if I was me. I was going to have to learn to be 'Quiet Roger.' So, I went, 'All right, let's try this.' Which is difficult, but I'm glad I did, because he did a really, really good job. And he's made a record that I couldn't have made."
Recorded in part at the L.A. house of producer and singer-songwriter Jonathan Wilson, the result often sounds far more like the music Waters did make with Pink Floyd back in the '70s than his previous solo output, like 1984's The Pros and Cons of Hitch Hiking or 1992's Amused to Death, his last collection of rock songs.
"He has a fan's deep attachment to the oeuvre," Waters says of Godrich. "He's enjoyed having the opportunity to do it himself, if you see what I mean. Because that's what he's done. That's why the studio was full of two-inch tape in big f—ing loops going round!"
Click here for more from the conversation with Waters, which includes his thoughts on Donald Trump's proposed wall and details on his upcoming live shows.