Pink Floyd : Their Mortal Remains Exhibition Extended For 2 Weeks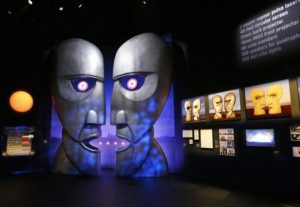 The V&A's blockbuster Pink Floyd show is one of the museum's most popular exhibitions ever, with around 10,000 visitors a week passing through the doors.
The show, Their Mortal Remains, has attracted 300,000 people already and its run
has now been extended by a fortnight to October 15th
It is likely to be even more popular than the 2013 David Bowie show, which was seen by 312,000 visitors in London before it embarked on a world tour.
Their Mortal Remains is also likely to go abroad.
It follows the career of the band, whose hit albums include The Wall and The Dark Side of the Moon, from playing dingy London clubs to selling out stadiums around the world.
Pink Floyd have sold more than 250 million records since their 1967 debut, despite line-up changes which saw original frontman Syd Barrett, who died in 2006, fall victim to drug addiction and keyboard player Rick Wright and songwriter Roger Waters walk out at different times, before drummer and guitarist Nick Mason and David  Gilmour called it a day.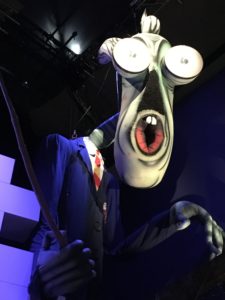 Its surviving members have all given the show their blessing and went through their personal archives to  provide exhibits including guitars, costumes and handwritten lyrics.
One of the band's psychedelic lightshows is recreated on-site and the museum has installed a version of The Wall's stage set complete with a giant inflatable schoolteacher.
The V&A's Victoria Broackes, who helped curate the show, said it had been "a massive collaboration" with the band. She added: "That combination of authentic staging, amazing sound, rock 'n' roll spectacle and the V&A has really shone through in the success of the exhibition, and the popularity with not just fans but with a diverse audience of all ages."
A 2015 retrospective of the work of fashion designer Alexander McQueen is the V&A's most popular show yet, selling 480,000 tickets and forcing bosses to open through the night.
Tickets are available online by clicking here