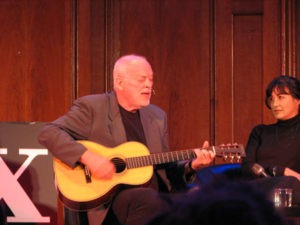 David Gilmour & his wife Polly Samson held another of their 'Talks' at Porchester Hall on 15 October and here are a couple of reports:
Thursday evening was a special one. My friend and I came to London to visit beautiful and historical Porchester Hall to meet this creative couple which consists of one legend and great writer and lyricist.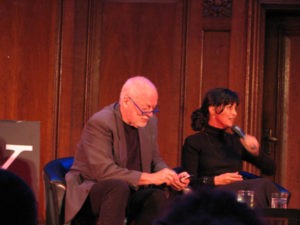 As someone who loves David's music I thought, you know, this also could be my one and only opportunity to meet my hero.
Arriving soon enough, we were able to grab chairs close to the stage and saw David passing us when queuing outside the hall.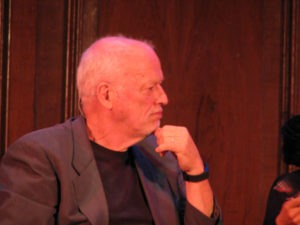 David and Polly were interviewed by none other than a great Andrew O'Hagan who was a wonderful host I must say.
Dimmed lights and burning candles on the tables with Rattle that lock album in the speakers created a scene of a cosy living room. And we've all felt so comfortable in! A truly warm welcome.
After Andrew has been introduced and came on the stage, he deserved a round of applause followed by a louder one as David and Polly followed him straight away.
During the next hour of casual talk David and Polly took the audience through their writing process, mentioning lots of details of their collaboration, followed by the questions from the floor at the end.
Polly told us a bit more about her job as lyricist and how she was approaching this task. So then David, using his phone and accoustic guitar, kindly demonstrated how some of the famous songs came into being and how Polly's lyrics have been constructed around his harmonies, vowel and consonant sounds. It was just amazing.
Funny fact – Song smile was originaly "Donkey poo poo" song as that's what the original lyrics were at the time and David sang this to their children.
Or "Haagen Dazs" song, which turned into In any tongue later on when Polly wrote those beautiful lyrics listening to the demo. (David sang his harmonies which evoked as if he was saying "Haagen dazs" )
Another fascinating fact was that the last 4 verses of A boat lies waiting which starts with "It rocks you like a cradle…" Polly wrote when the song has been finished and David added it in additionally.
These are just few examples and the evening was full of interesting moments such as these.
David expressed his huge admiration of the lyrics and told us this worked the same way on On an island album and even better.
He also revealed Polly helped him to find a right order for the songs on the new album and that the idea of making it about a day was hers actually. Also it was her who adviced David to use 5am song and split it in two to open and close the album.
All three, David, Polly and Andrew were enjoying the evening, had fun and so did the audience.
So the session was gone and lots of fans hoped for another treat. Yes, the autographs!
Both Andrew and Polly went onto the floor among fans and were signing their books while David dedicated his time to his fans at the different part of the room. He signed everything from usual stuff to iPhones, iPads and even a motorcycle helmet! He kindly refused to sign guitars, scratch plates or a Black strat book though.
Their sons Charlie and Gabriel were present as well.
Oh…and yes, I've managed to meet the man himself! Meeting such a legend is the ultimate moment of happiness and words cannot describe how happy and thankful I am.
I did tell him I love his music for what he thanked me.
So again, thank you David and Polly for this wonderful evening. It couldn't have been better!
Pictures & review with thanks to Vlado Marcinek.
---
Fascinating hour or so with David & Polly tonight. In short
Discussion of High Hopes, Smile, Rattle That Lock, A Boat That Lies Waiting, In Any Tongue, The Girl In The Yellow Dress, Shine On You Crazy Diamond. David played acoustic versions (mostly instrumental, and not complete) of Smile, A Boat That Lies Waiting, The Girl In The Yellow Dress and tiny segments of High Hopes and SOYCD. He also played parts of demos for Smile, A Boat, The Girl In The Yellow Dress from his phone.
Anecdotes :
David said "It worked very well with Roger.. until he fucked off. " – which got a huge laugh – (following it with about how well it works with Polly these days)
High Hopes and some of the Division Bell lyrics came from conversations where Polly had glandular fever, David wrote down parts of what she said, and then she edited and rewrote the lyrics. Often the lyrics comes from Polly and David's conversations she converts into songs.
Louder Than Words was largely written following Polly's observations of band rehearsals in 2005 for Live 8, driven by the fact that the band spent most of their time when not playing, not talking to each other.
Smile's working title was "Donkey Pooh Song" as David's word-free demo sounded like he was signing donkey pooh.
The Girl In The Yellow Dress' working title was "Haagen Daas" (same reason as above)
Polly often writes out David's phonetic demos then tries to make words fit around the original words like 'donkey pooh' / 'would this do?'
Polly's least favourite Floyd song is "Another Brick" due to the lyrics
"The Endless River" is largely instrumental as it felt appropriate not to sing over the original recordings in most cases
David : "Retirement is not an option."
David was asked about Ginger's autobiography, to which he replied "No comment." and "Well, we all made a lot of mistakes." (And the questioner was reminded, quite rightly, that we should stick to the music and lyrics).
David talked about how the band were quite pleased to 'scrape two albums' out of the 1975 sessions.
David, Polly, and Rick planned to share a cross Atlantic sailing trip but never did
"A Boat Lies Waiting" was written in 2013
There was no instrumental demo for "Rattle That Lock" because the whole track came together very quickly. Lyrics inspired by protests.
We were requested not to film or record, otherwise I would have recorded the demos.
Questioners were asked to keep question short, and not provide essays. This wasn't always followed, and David was quite curt in a couple of answers as a result.
David has not heard any new guitarists in the past 20 years that have influenced him.
Review thanks to Mark Reed