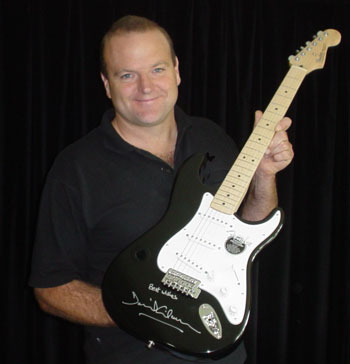 Steve Carr (above) looks like the cat that got the cream, and here's why.
Recently, Steve Carr bought a guitar, but this wasn't any old guitar, this was a bit special. You see, this one has been signed by David Gilmour.
We thought we would try to find out a bit more about this Australian bloke, who was prepared to lash out was was obviously a substantial amount of money.
Turns out Steve has been a Floyd fan since the 70's when he was a HiFi Nut. He found that the best way to test out his speakers, was to play the then recently released Dark Side Of The Moon. Steve said the heart beats were often used to listen to the bass response of speaker systems and enclosures.
Steve, who is 43 and has two 'fantastic' kids, lists his hobbies as 'pretty much anything to do with water -surfing, Scuba diving, fishing and of course playing guitar'.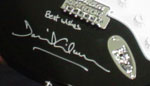 And his musical tastes? "Being a teen in the 70's (something my kids are jealous of now!) Pink Floyd and Supertramp were a few of the bands that became my staple diet. I really appreciate music that develops and has some orchestration involved in it. I enjoy a wide variety of music from some classical to blues to Stevie Ray. Really almost anyone who knows their instrument from back to front and upside down is probably worth listening to!"
About that guitar? Well, it was donated to a charity in the USA called Musicians On Call. They auctioned some guitars in February (2005) to raise money for their charity work in hospitals. They encourage artists to visit sick people in Hospital and bring some comfort through their music. A good work don't you think? When the auction closed Steve was the one lucky to be in front, it was as simple or  lucky as that!