House Of Illustration Present An Evening In Conversation With Gerald Scarfe As Part Of Stage And Screen Exhibition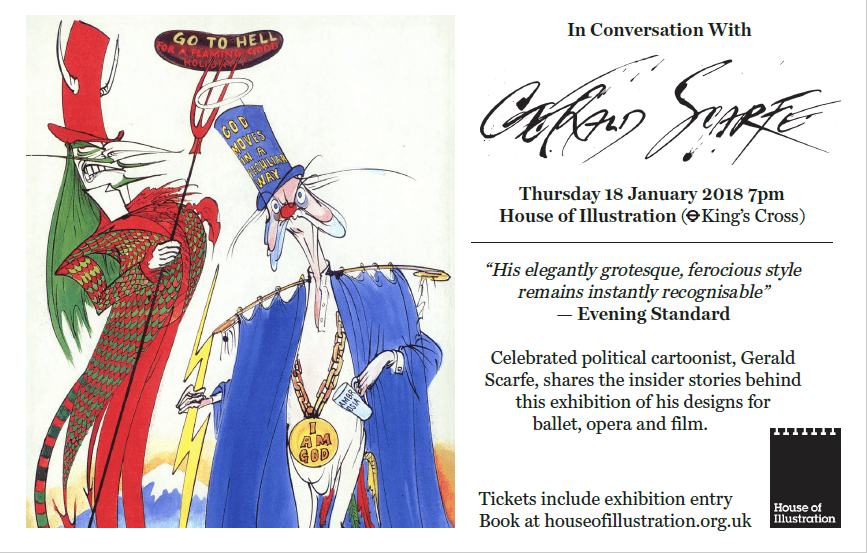 It's the final weeks of the current exhibition titled, Gerald Scarfe: Stage and Screen Which is currently taking place at London's House Of Illustration up until the 10th February 2018.
House Of Illustration have just announced that Gerald Scarfe is to join them in person for a one off event to give some personal insight into the works on display – many of which are being shown for the very first time.
The event is to take place on Thursday 18th January 2018 7pm at London's House of Illustration, 2 Granary Square, King's Cross, London, N1C 4BH
Tickets for the event are included as part of the standard Exhibition Entry
Tickets are very reasonably priced ranging from £5 – £8.25 and are available to buy online direct by clicking here (We advise you get down early to secure your spot)
London's House of Illustration offers a rare opportunity to explore Scarfe's extensive work in these areas, presenting storyboards, costumes and props from a range of projects including Disney's Hercules and Pink Floyd's The Wall (for which Scarfe designed the animation sequences).
The artist's typically acerbic imagination and vibrant style are evident throughout, as well as his desire to 'bring my creations to life – to bring them off the page and give them flesh and blood, movement and drama.'