Guy Pratt : The London Guitar Show 4th March 2018
Taking Part In The
2018 London Bass Guitar Show

is none other than

Guy Pratt

.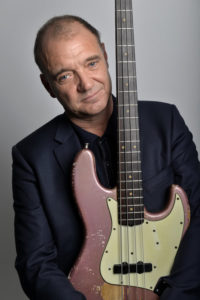 Guy is one of the UK's best-known bass players. A hugely prolific session bassist over the last three decades, Guy has recorded and toured with artists of the calibre of Pink Floyd, Madonna, Roxy Music, Michael Jackson, Iggy Pop, Tom Jones and many more. He is also a standup comedian, actor and published author.
The London Bass Guitar Show is a two-day event dedicated to all things bass. Held at the prestigious Olympia London, you will find three stages and loads of bass gear to try out. On the main stage, watch your idols perform up close and personal, giving you the chance to see them play front and centre. Past artists include Robert Trujillo, Suzi Quatro, Peter Hook, Stuart Hamm, Mark King, Billy Sheehan, Jeff Berlin and many more.
There is limited seating in the main stage auditorium, so guarantee yourself entry by buying a ticket for £5 to see your favourite artist on the day, or try your luck for a free ticket – an allocation is given out an hour before each performance.
Check out the Education Zone whatever your level – none of us are perfect, right? Some of the best bass tutors out there will be on hand to give advice and tips, and answer those burning bass playing questions. The show is packed with the best brands out there from Cort to Schack, so you can try out and buy the latest and best bass gear at special show prices.
The London Bass Guitar Show takes place on 3rd & 4th March 2018 at Olympia London, Hammersmith Rd, London, W14 8UX between 10am – 6pm *Please note the Gear Hall closes at 5pm on Sunday.

Guy's performance at the 2 day event takes place on the 04th March 2018