David Gilmour : New Interview With Prog Magazine Issue 96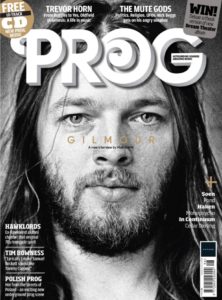 The UK's Prog Magzine have recently announced a brand new issue number 96 which has started to be distributed to subscribers already and will be officialy available in UK stores from Tuesday 5th March 2019.
What makes this article diffrent to every other magazine? The magazine has a new, and exclusive, interview with David Gilmour as the cover feature, in which he discusses selling most of his guitars and what the future holds for both Floyd and him as a solo artist. The interview finds David in a reflective mood, talking about certain key instruments, as well as pondering on the process of creating a new album, and all the hoopla that goes with that sort of project.
There's also an in depth look at David's solo career in a separate feature, that includes other prog guitarists such as Steve Howe, Martin Barre, Steve Hackett and more, choosing their favourite Gilmour guitar solos.
The Magazine will be hitting UK retailers from Tuesday 5th March and will be available to purchase online for Oversea visitors by clicking this link