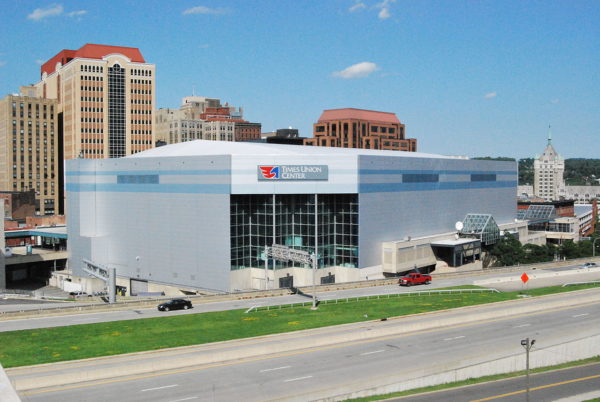 Capacity 20,000+
Times Union Center (originally Knickerbocker Arena) is an indoor arena located in Albany, New York. It is configurable and can accommodate from 6,000 to 17,500 people, with a maximum seating capacity of 15,500 for sporting events.
The building, designed by Crozier Associates and engineered by Clough Harbour & Associates, was built by Beltrone/MLB at a cost of $69.4 million.
The arena also has 25 luxury suites; each has sixteen seats, cable television, a refrigerator, and a private bathroom. They are located at the top of the inner bowl. All suites are rented on three-year terms; all are currently sold out.
---
Can YOU help? We are looking for any material related to this show. Scans of posters, news items, ticket stubs, show pictures, or anything else you may think be of interest to our visitors. Thanks. Please send any show material to liam@pinkfloydz.com