The Pink Floyd Exhibition: Their Mortal Remains" comes to Dortmund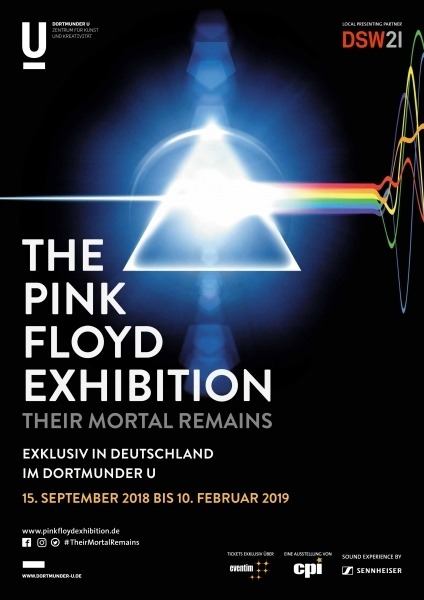 One of the most successful bands in music history takes a look behind the scenes of its more than 50-year history. "The Pink Floyd Exhibition: Their Mortal Remains" provides both rare and extraordinary insights.
From September 15, 2018, the multimedia interactive exhibition will be on display in Dortmund's U, a highly visible landmark of the city and long established as a center for art and creativity. Tickets are available in advance at Eventim.de and from June 18th at all Eventim ticket agencies.
After visiting London and Rome, Dortmund is the first and only stop in Germany until February 10, 2019 – an exhibition that previously caused a sensation in the English and Italian capital.
The unique interactive exhibition in the Dortmunder U, which not only appeals to fans of Pink Floyd, looks back on more than five decades of rock history. Capturing the visitor so intensely in sound, text and image as if he or she were standing in the middle of the stage.
Featuring previously unpublished concert recordings, original instruments, unknown notes and many personal memorabilia from members of the British cult band make "The Pink Floyd Exhibition: Their Mortal Remains" an absolute must for music lovers.
---
The Dortmund U
The Dortmunder U is a cultural center with international appeal and the most impressive building in Dortmund. It was built in 1926/27 as the first high-rise building and beer factory of the Union Brewery.
Crowned with a light pyramid, the ferry and warehouse was one of the most modern buildings at that time.
Since 2010 the Dortmunder U with its unique installation is a center for art, culture and creativity. The U is one of the youngest and most innovative houses in Germany, about 70 per cent of the guests are under 50 years.
Last year the Dortmund U was awarded the "European Cultural Brand of the Year".
---
The exhibition opens on

September 15th

,

and runs until

February 10th 2019

.