50 Years Celebration Of Pink Floyd's Iconic First Official Photoshoot In Ruskin Park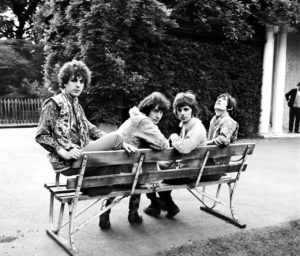 In London 50 years ago photographer Colin Prime took Pink Floyd for their first official photoshoot. It took place in Ruskin Park in Denmark Hill and came about after Prime had met the band as an up and coming new group playing the London clubs—Prime was also a disc jockey as well as a photographer.
The photos see the band— Nick Mason, Syd Barrett, Roger Waters, and Richard Wright—larking about in jovial spirits in the park. Sitting on benches posing, or in or near the Ruskin Park Portico, a remaining part of the 18th century villas that once encircled Denmark Hill.
To read the full article and see more photos please head over to rock archive by clicking here